No matter how many books sit unread on my shelves, or in my kindle app, there are ALWAYS more books I just have to have. I'm sure any bibliophile can relate. Below are a few of some upcoming spring/summer titles that I have either pre-ordered, or I'm waiting patiently to be approved via Netgalley or Edelweiss. Are any of these on your TBR list?
Trouble Never Sleeps (Trouble #3) by Stephanie Tromly
About the book: Happily Ever After gets a serious makeover in this swoony, non-stop, thrill-ride of a conclusion to the Trouble Is a Friend of Mine trilogy.

No one makes getting into trouble look as good as Philip Digby—and he looks good doing it. Now that he's back in town, he's plunged Zoe (and their Scooby Gang of wealthy frenemy Sloane, nerd-tastic genius Felix, and aw-shucks-handsome Henry) back into the deep end on the hunt for his kidnapped sister. He's got a lead, but it involves doing a deal with the scion of an alarmingly powerful family, not to mention committing some light treason. Zoe and Digby are officially together now, and she's definitely up for whatever closure this new caper might offer, even though this mystery will come with a twist neither expected.

With acerbic banter, steamy chemistry, and no small amount of sarcasm, Zoe and Digby are the will-they-or-won't-they, charismatic crime solving couple you've been waiting for. [goodreads]
Considering I just binge read (& fell in love with) the first two books in this series, I am dying to get my hands on the third, and final, installment in this trilogy. The quick-witted snark, plus action packed storyline, had me reading page to page. I am so eager to find out how it all wraps up! This was an instant pre-order!
The Way You Make Me Feel by Maurene Goo
About the book: From the author of I Believe in a Thing Called Love, a laugh-out-loud story of love, new friendships, and one unique food truck.

Clara Shin lives for pranks and disruption. When she takes one joke too far, her dad sentences her to a summer working on his food truck, the KoBra, alongside her uptight classmate Rose Carver. Not the carefree summer Clara had imagined. But maybe Rose isn't so bad. Maybe the boy named Hamlet (yes, Hamlet) crushing on her is pretty cute. Maybe Clara actually feels invested in her dad's business. What if taking this summer seriously means that Clara has to leave her old self behind?

With Maurene Goo's signature warmth and humor, The Way You Make Me Feel is a relatable story of falling in love and finding yourself in the places you'd never thought to look. [goodreads]
Maurene's previous novel,
I Believe in a Thing Called Love
, had me laughing out loud within the first few chapters. That was a definite sign of a fun book ahead (which it was!). So naturally I am looking forward to more by this author. I love everything about the premise of this new novel. And yes, her titles always make me sing them aloud.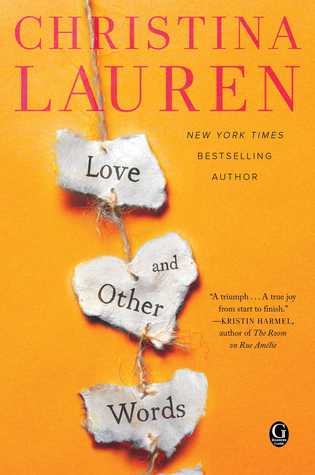 Love and Other Words by Christina Lauren
About the book: Love, loss, friendship, and the betrayals of the past all collide in this first women's fiction novel from New York Times and #1 international bestselling author Christina Lauren (Autoboyography, Dating You / Hating You).

The story of the heart can never be unwritten.

Macy Sorensen is settling into an ambitious if emotionally tepid routine: work hard as a new pediatrics resident, plan her wedding to an older, financially secure man, keep her head down and heart tucked away.

But when she runs into Elliot Petropoulos—the first and only love of her life—the careful bubble she's constructed begins to dissolve. Once upon a time, Elliot was Macy's entire world—growing from her gangly bookish friend into the man who coaxed her heart open again after the loss of her mother...only to break it on the very night he declared his love for her.

Told in alternating timelines between Then and Now, teenage Elliot and Macy grow from friends to much more—spending weekends and lazy summers together in a house outside of San Francisco devouring books, sharing favorite words, and talking through their growing pains and triumphs. As adults, they have become strangers to one another until their chance reunion. Although their memories are obscured by the agony of what happened that night so many years ago, Elliot will come to understand the truth behind Macy's decade-long silence, and will have to overcome the past and himself to revive her faith in the possibility of an all-consuming love. [goodreads]
If a book has Christina Lauren's name on it, I have to have it. I don't even care if it's a book that details their shopping lists, haha, I want it! They are some of my most favorite writers, and I can't wait to experience their first experiment in women's fiction.
Stay Sweet by Siobhan Vivian
About the book: A summer read about first love, feminism, and ice cream.

Summer in Sand Lake isn't complete without a trip to Meade Creamery—the local ice cream stand founded in 1944 by Molly Meade who started making ice cream to cheer up her lovesick girlfriends while all the boys were away at war. Since then, the stand has been owned and managed exclusively by local girls, who inevitably become the best of friends.

Seventeen-year-old Amelia and her best friend Cate have worked at the stand every summer for the past three years, and Amelia is "Head Girl" at the stand this summer. When Molly passes away before Amelia even has her first day in charge, Amelia isn't sure that the stand can go on. That is, until Molly's grandnephew Grady arrives and asks Amelia to stay on to help continue the business…but Grady's got some changes in mind… [goodreads]
You had me at ice cream.. and first love.. AND summer! All of these are ingredients for #SuchAGingerRead, plus to be written by Siobhan Vivian is a cherry on top of this ice cream sundae! I feel like I got an intimate look at her writing process with this one as she shared her experience with it through social media as the book came together. I am really looking forward to seeing the finished product (And, that cover? My favorite! She always has the best covers!).
***
Let me know in the comments if you've added any of these to your forever growing to-be-read list. Or, if you've been lucky enough to read one already, let me know that too! (spoiler-free of course)