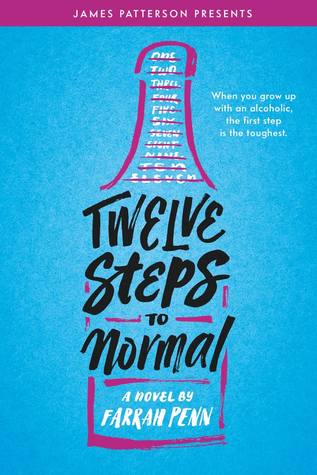 Twelve Steps to Normal by Farrah Penn


Published: March 13, 2018 by Little, Brown
About the book:
Kira's Twelve Steps To A Normal Life

1. Accept Grams is gone.
2. Learn to forgive Dad.
3. Steal back ex-boyfriend from best friend...

And somewhere between 1 and 12, realize that when your parent's an alcoholic, there's no such thing as "normal."
When Kira's father enters rehab, she's forced to leave everything behind--her home, her best friends, her boyfriend...everything she loves. Now her father's sober (again) and Kira is returning home, determined to get her life back to normal...exactly as it was before she was sent away.

But is that what Kira really wants? [goodreads]
It's here! I am so happy to be sharing my thoughts on Farrah Penn's debut novel,
Twelve Steps to Normal.
I've been a champion of her words long before they were set to be published and I am so incredibly proud of the journey she's followed through with. From one Texas book blogger to a (former) Texas book blogger -- Congrats!!
Kira's story is one I feel that a lot of teens, unfortunately, can relate to. We see the aftermath of what having an alcoholic parent can do to a teenage girl's life. The story picks up just after Kira's dad exits his rehab therapy & attempts to re-enter Kira's life. From the first chapter, I immediately felt the emotional journey both Kira & her dad would take me on.
This is so much more than just a story about recovery & the effects alcoholism can have on the people that are touched by it. I see so much potential from this debut novelist that I can't wait to read more from Farrah. From someone who adores contemporary YA just as much as me, she gets this one right. So right.