Hey, my summertime reading friends! I'm excited to have a special guest on the blog today, sharing a bit more about one of MY favorite books I've read this year. It's the perfect dose of summery YA contemps that I love to devour -- full of emotion, tension, heartache, and that sweet, sweet first kind of romance.
THE LAST THING YOU SAID takes place on the lake in the beautiful state of Minnesota. The setting itself poses as its own character, in my opinion, so rich with emotion and vibrancy. I found myself escaping to this lakeside town every time I visited the pages of this beautiful story.
Please welcome author Sara Biren to the blog as she answers some of my own questions, plus shares some personal photos that inspired this unforgettable story. If you haven't yet heard of her book, I hope today's post puts it on your radar. It's a can't miss to read this summer!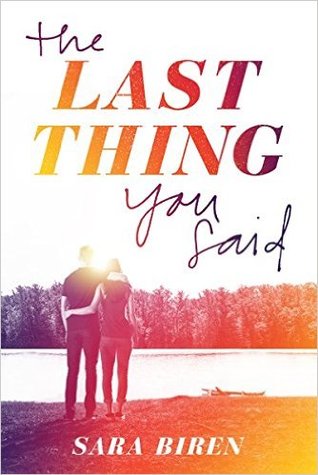 About the book: Last summer, Lucy's and Ben's lives changed in an instant. One moment, they were shyly flirting on a lake raft, finally about to admit their feelings to each other after years of yearning. In the next, Trixie—Lucy's best friend and Ben's sister—was gone, her heart giving out during a routine swim. And just like that, the idyllic world they knew turned upside down, and the would-be couple drifted apart, swallowed up by their grief.

Now it's a year later in their small lake town, and as the anniversary of Trixie's death looms, Lucy and Ben's undeniable connection pulls them back together. They can't change what happened the day they lost Trixie, but the summer might finally bring them closer to healing—and to each other.
Author Interview with Sara Biren
1. Describe your book in 140 characters, twitter style.
Ben and Lulu deal with their grief and their feelings for each other the summer after the death of Trixie, his sister and her best friend.
2. What was it like to see your first published book in a bookstore?
It was truly a dream come true, especially because this book is so close to my heart. The moment was made even more special because my daughter was with me and she was absolutely beside herself with pride and excitement.
3. What truly sparked the idea to write this story?
I wanted to participate in Camp NaNoWriMo in July, 2011. A local teen was battling cancer and I frequently read his mother's CaringBridge updates. I started to think about his friends, the people who would ultimately be left behind when he lost that battle several months later. And I started to think back on my own experiences with grief. Grief takes its time, and everyone handles their pain in a way unique to them.
4. A writer wears many hats. What else occupies your time other than writing?
I work full-time as a copywriter for a marketing and advertising agency as well as a freelance editor and grant writer on the side. My two kids (14 and 10) keep me very busy. They're involved in theater, music, dance, tennis, and Scouts. I am very active with my son's Boy Scout Troop and am my daughter's Girl Scout Troop Leader. I also volunteer with our church and various other community organizations.
5. It's 10 years from now within the setting of your book, can you share with us what your characters might be up to? (spoiler free, of course!)
I think it's safe to say that Ben is out on the lake fishing and guiding. Perhaps Lulu went to culinary school and has taken over the pie and bakery responsibilities at the Full Loon Café. You can tell a lot about a person by the kind of pie they order. Mainly if they're a**holes or not.
6. Is there something new you are currently working on that you can share with us?
If you loved the idyllic setting of Halcyon Lake, Minnesota in the summer, you're really going to love it in the dead of winter. I'm currently working on a book about the only female hockey player on her high school's boys' hockey team, and what happens when she suddenly finds herself in the spotlight – and falling for her captain.
---
Every summer when I was a kid, my dad's extended family spent a week at a resort near Pequot Lakes, Minnesota, to celebrate my Uncle Bud's birthday. It was always my favorite week of summer vacation – reading on the beach, going out on the boat, fishing, hanging out with my aunts and uncles and cousins. I was completely enamored with the area and with lake life.
Today, June 19, would have been my Uncle Bud's 85th birthday. He passed away three weeks ago, on Memorial Day, after spending the weekend at the lake.
I've often said that everyone should have an Uncle Bud – always ready with a corny one-liner and a hug – and I'm grateful for him, our big family, and those halcyon days up at the lake. If it weren't for Bud, his love of the lake and for his family, THE LAST THING YOU SAID would have been a very different book.
The famous and iconic Pequot Lakes bobber water tower
Fishing off the dock, 1988
A cabin at Sunset Knoll Resort
Sunset Knoll Resort
The Biren brothers (Bud, Ted, and Chris) sometime in the 80s. Sara's dad is in the middle.
Bertha Lake, Pequot Lakes, MN
---
Thank you so much, Sara Biren, for sharing your inspirations, your personal connections, & these wonderful memories that all make up this beautiful story. I know it's made me love it even more!
Want to read this book sooner rather than later? Here's your chance to win a signed copy + other Minnesota goodies from Sara Biren. Contest is open to US residents only -- good luck!
a Rafflecopter giveaway