Where I read a book and then label it as "Such a Ginger Read" because, well, it is such a Ginger read. To see my first edition post of this new feature,
please click here.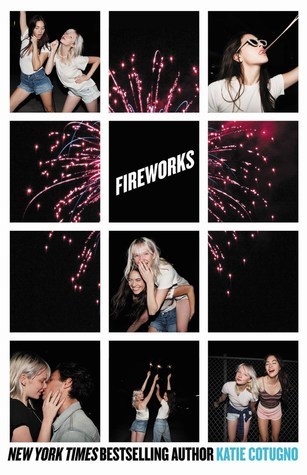 Fireworks by Katie Cotugno
Published:
April 18, 2017 by Harper Collins/ Balzer + Bray
Source:
e-ARC from publisher
From Katie Cotugno, bestselling author of 99 Days, comes Fireworks—about a girl who is competing with her best friend to become the new pop star of the moment—and all the drama and romance that comes with it—set in Orlando during the late-'90s boy-and-girl-band craze.

It was always meant to be Olivia. She was the talented one, the one who had been training to be a star her whole life. Her best friend, Dana, was the level-headed one, always on the sidelines, cheering her best friend along.

But everything changes when Dana tags along with Olivia to Orlando for the weekend, where superproducer Guy Monroe is holding auditions for a new singing group, and Dana is discovered too. Dana, who's never sung more than Olivia's backup. Dana, who wasn't even looking for fame. Next thing she knows, she and Olivia are training to be pop stars, and Dana is falling for Alex, the earnest, endlessly talented boy who's destined to be the next big thing.

It should be a dream come true, but as the days of grueling practice and constant competition take their toll, things between Olivia and Dana start to shift . . . and there's only room at the top for one girl. For Olivia, it's her chance at her dream. For Dana, it's a chance to escape a future that seems to be closing in on her. And for these lifelong best friends, it's the adventure of a lifetime—if they can make it through.

Set in evocative 1990s Orlando, New York Times bestselling author Katie Cotugno's Fireworks brings to life the complexity of friendship, the excitement of first love, and the feeling of being on the verge of greatness. [goodreads]
I had the honor of reading an early copy of this book back in 2016. Already I knew it was a 2017 release that would make waves, and definitely find its place as Such a Ginger Read. Katie Cotugno's writing has always captured my attention. She has a way of telling a story that is endless with its depth, yet so relateable at the same time. She's definitely one of my favorite YA contemporary writers and this novel only proves it more.
As someone who grew up in the 90s as a teenager, the beginning of the boy/girl-band craze is something I can so relate to. I loved how Cotugno takes us back to a time when 90s pop music was all the rage, along with the fashion, and iconic symbols. This novel screams nostalgia for me. There was potential for cheesiness though; however, as I've come to realize with Cotugno's stories, she took what could have been a two dimensional storyline and gave it lungs to breath on its own. The story was so rich, I found myself not wanting to put it down.
The friendship between Olivia and Dana is one I'll remember (and I have, all these months later since I read it). Their relationship was more than tangible, it symbolized so many great friendships from my past. The kind you can rely on and fall back on when life gets rough. But there was an honest portrayal of what can become of friendships through those crucial growing years. These two girls were definitely experiencing some major changes and it was interesting to witness their friendship change as they did. I really appreciated the authentic ending Cotugno delivers.
And then there was the boy. I was definitely picturing young Justin Timberlake as I read the character of Alex. His relationship with Dana was sweet and enduring, yet electrifying and thrilling, as all young first loves should be. It gave this already rich story the icing on the cake. 90s pop music + an emotional contemporary YA is definitely Such a Ginger Read!