Where I read a book and then label it as "Such a Ginger Read" because, well, it is such a Ginger read. To see my first edition post of this new feature, please click here.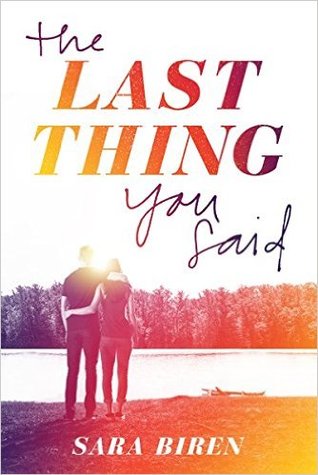 The Last Thing You Said by Sara Biren

Published: April 4, 2017 by Amulet Books

Source: Digital ARC from the publisher


About the book: Last summer, Lucy's and Ben's lives changed in an instant. One moment, they were shyly flirting on a lake raft, finally about to admit their feelings to each other after years of yearning. In the next, Trixie—Lucy's best friend and Ben's sister—was gone, her heart giving out during a routine swim. And just like that, the idyllic world they knew turned upside down, and the would-be couple drifted apart, swallowed up by their grief. Now it's a year later in their small lake town, and as the anniversary of Trixie's death looms, Lucy and Ben's undeniable connection pulls them back together. They can't change what happened the day they lost Trixie, but the summer might finally bring them closer to healing—and to each other. [goodreads]
If there ever was a YA book written just for Ginger, this might very well be it. From the setting, to the characters, to the emotional roller coaster this story took me on -- every bit of it screams: Such a Ginger Read! I have a soft spot in my heart for summery YA contemps (*ahem* Sweet SummertimeReads *ahem*), so naturally I am pulled toward stories like this one. However, I'm placing this particular summery YA contemp in a category all its own.
There's a distinct emotional heaviness throughout the novel, set against one of the most descriptive and captivating small towns nestled on a lake. I found myself wanting to hug these characters close, transferring the weight of their grief on to my very own shoulders. Their story was honest, aching, and something I'll reflect back on time and time again.
I think I just found my favorite new author of 2017 and the book I'll be recommending to every reader I know. Add this one to your to-be-read list, friends, and prepare yourself for the pure beauty of what makes this summery, emotional YA contemp Such a Ginger Read.