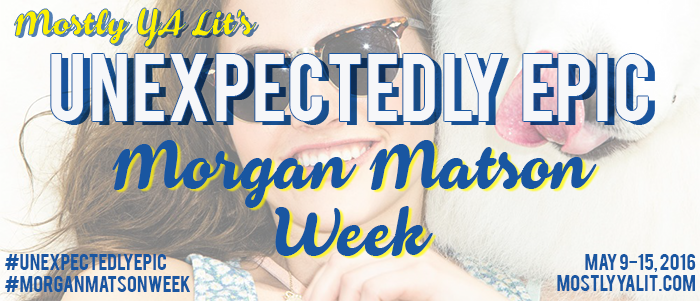 Hi, friends! I am super pumped to be involved in the #MorganMatsonWeek festivities, hosted by the super awesome Tiff from
Mostly YA Lit
. All week long, be sure to visit her blog as she'll be featuring fun and inspiring posts all about Morgan Matson's books. As a fangirl myself, I knew I wanted to be apart of this #UnexpectedlyEpic week long event!
Today, I am participating in a dare, a very Sloane and Emily thing to do (from one of Matson's novels, Since You've Been Gone). In the story, Sloane leaves behind a list of dares for Emily to accomplish. What begins as a fun, out of the box experience, quickly evolves into Emily taking risks and finding out who she truly is when she steps out from behind her best friend's shadow. Dares can be scary, and exciting -- thankfully the dare I was given is more on the tamer side.
My Dare: Post a blog post "confession" about something that you wish you could really say to someone.
My Confession: I wish I could go back in time and tell 20 year old Ginger A LOT of things. For my dare, I'm going to confess a bit of word vomit as to what I wish I could tell my younger self.
First of all, you are so not fat. Quit looking in the mirror and judging your body based on unrealistic beauty. I know you have a hard time accepting it now, but truly, your beauty is deep inside. That kind heart your family has pointed out to you before? THAT is your beauty. Let it shine through. And oh what a gorgeous sight it can be.
Second, get serious about your future career. I know it seems daunting right now, and you think you don't know what you "want to be", but try something, anything, to get your feet wet. Sitting on the side lines and letting life pass you by is also allowing opportunities to be missed. Just remember, if you're not happy with something, you always have the control to change it.
Third, say yes to the nice guys more often, and don't be afraid to reject the assholes. I know he may seem charming right now, and yeah he's definitely super cute, but just like your own beauty, his true colors come from within. Pay attention to the qualities that matter, and give the kind ones a chance.
And fourth, stop being annoyed by your mother's presence. Yes, there are certain quirks about her that get on your nerves, I get that. But so much sooner than you, or anyone else, had ever imagined.. she will be gone, forever. You will miss those little bothersome qualities and wish with all your heart that you could simply just talk to her, see her, feel her warm hugs and unconditional love. It will be an ache that will never go away. Prepare yourself, young Ginger. You're a strong woman, and you'll see through to the other side. But please, oh please, love on your sweet mama right now. Your time with her is precious moments soon to be gone.
Dare accomplished! Be sure to check out
Mostly YA Lit
, and follow the #UnexpectedlyEpic #MorganMatsonWeek hashtags on social media to see more dares being fulfilled. And if you haven't already, check out Morgan Matson's books (my personal favorite:
Amy & Roger's Epic Detour
).