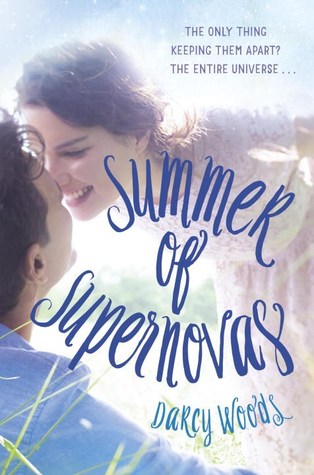 Summer of Supernovas
by Darcy Woods
Published: May 10, 2016 by Crown Books for Young Readers
Source: ARC from publisher
Fans of Jennifer E. Smith and Jenny Han will fall in love with this heartfelt and humor-laced debut following one girl's race to find the guy of her cosmic dreams.

When zodiac-obsessed teen Wilamena Carlisle discovers a planetary alignment that won't repeat for a decade, she's forced to tackle her greatest astrological fear: The Fifth House—relationships and love.

But when Wil falls for a sensitive guitar player hailing from the wrong side of the astrology chart, she must decide whether a cosmically doomed love is worth rejecting her dead mother's legacy and the very system she's faithfully followed through a lifetime of unfailing belief. [goodreads]
Oh what a sweet, poignant journey Wilamena takes us on. She's followed star charts her whole life, always looking to the skies for advice and guidance. It was her mother who first introduced her to the cosmic soul floating above them, as they would lay in the grass at night searching the stars for the stories to be told. When Wilamena loses her mother at a young age, it is the stars she must rely on and hold fast to, in fear of losing her way.
She's on a mission to meet the boy who's been written in the stars for her. Just when she thinks everything has been perfectly aligned, it's another boy who comes crashing in, shaking up everything she ever thought to be true. In a struggle to follow her mother's wishes, and following her own heart, Wilamena discovers that sometimes life isn't always a mapped out path in the stars. Sometimes we must create our own destinies.
I loved the quirky charisma that shines through in this novel. From the setting of the small town, to the people who inhabit it, and the relationships that are built around it, I was truly soaking up each word. There's something authentic I can't quite put my finger on, but felt so honest throughout while reading. Darcy Woods is an author to definitely keep an eye on, for her talent intrigues me and has me wanting to read more by her.