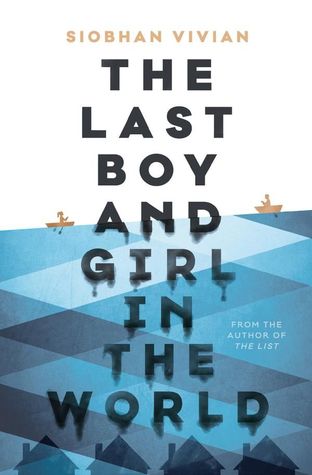 The Last Boy and Girl in the World
by Siobhan Vivian
Published: April 26, 2016 by Simon & Schuster
Source: ARC from the publisher
What if your town was sliding underwater and everyone was ordered to pack up and leave? How would you and your friends spend your last days together?

While the adults plan for the future, box up their possessions, and find new places to live, Keeley Hewitt and her friends decide to go out with a bang. There are parties in abandoned houses. Canoe races down Main Street. The goal is to make the most of every minute they still have together.

And for Keeley, that means taking one last shot at the boy she's loved forever.

There's a weird sort of bravery that comes from knowing there's nothing left to lose. You might do things you normally wouldn't. Or say things you shouldn't. The reward almost always outweighs the risk.

Almost.

It's the end of Aberdeen, but the beginning of Keeley's first love story. It just might not turn out the way she thought. Because it's not always clear what's worth fighting for and what you should let become a memory. [goodreads]
The Last Boy and Girl in the World
is not only my first read of 2016, but it is also my first 5-star read of the year. What an amazing story to set the bar for my literary year ahead. I've been a fan of Siobhan Vivian's writing since I first encountered her work with
Not That Kind of Girl
. Her storytelling has the ability to grab you when you least expect it, filling a void you didn't quite know you were missing until you're completely consumed by her words.
This particular novel hits close to my own personal experiences, but not until recently. Here in Houston, we encountered some historic floods within the last week. As I sat at home, safe and dry, since the school districts were closed and all the main roads were basically impassable due to high water, I found myself reflecting on Siobhan Vivian's story. Her words began to take on a new form, creating a more personal connection to Keeley and the town she has to leave, yet feels completely tied to.
Though my city did not collapse and become wiped off the map due to the floods, it still had me thinking -- what if it did?! How can someone pack up all their belongings and leave behind the only home their family has ever known due to complications according to mother nature (and perhaps something else)?? Keeley's story goes deeper than just physically moving away from her childhood home, it also symbolizes her moving on from a part of her youth and into a new young adulthood. She's forced to look at friendships, relationships, and even her parents in a new light. Keeley must learn to live with the consequences of her choices, all while beginning again whether she planned for it or not.
If you're a fan of emotional contemporary YA, that goes beyond just superficial relationships, and really takes a closer look at the inner workings of how people react under unexpected circumstances, then I highly recommend this novel. It's a story that now has a personal connection to my own story, one that will come to mind when I think about all the "what if's" and how a town, a community, a family must learn to gather and resettle, creating a new story to be told.