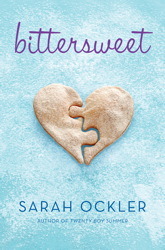 Bittersweet
by Sarah Ockler
Published: January 3, 2012 by Simon Pulse
Source: Purchased from used bookstore
Once upon a time, Hudson knew exactly what her future looked like. Then a betrayal changed her life, and knocked her dreams to the ground. Now she's a girl who doesn't believe in second chances... a girl who stays under the radar by baking cupcakes at her mom's diner and obsessing over what might have been.

So when things start looking up and she has another shot at her dreams, Hudson is equal parts hopeful and terrified. Of course, this is also the moment a cute, sweet guy walks into her life... and starts serving up some seriously mixed signals. She's got a lot on her plate, and for a girl who's been burned before, risking it all is easier said than done.

It's time for Hudson to ask herself what she really wants, and how much she's willing to sacrifice to get it. Because in a place where opportunities are fleeting, she knows this chance may very well be her last... [goodreads]
I could not have found a more appropriate time to read this novel than when I did. As a fairly recent Sarah Ockler fan, I've been slowly reading her backlist titles. So when I discovered a copy of
Bittersweet
in my local used bookstore, I bought it and sat it aside to read during winter break from work. As the temperatures were falling outside, and I had an afternoon and evening to do as I wished, I curled up on my sofa with a cozy blanket and lost myself in Ockler's words... yet again.
Hudson was on track to become the next big talent on the ice skating rink from a small town in upstate New York. She was on the verge of being discovered and creating a path to meet her Olympic dream goals. But just as she's about to step foot on the ice, she discovers a betrayal at home, that completely sets her off balance, and causes her to lose focus. In shame and despair, she hangs up the ice skates, and turns to baking cupcakes in her mom's diner. Now it's just the three of them: her mom, little brother, and Hudson, trying to make ends meet and get by as her father leaves town, deserting their family as well.
Immediately I was taken to Hudson and worried about the path she'd now created for herself. Though she has a life to be proud of with her delicious cupcakes, adorably inquisitive little brother, a dependable best friend, and a strong-willed mother; Hudson still longs for the "what ifs". What if she hadn't discovered her father's dirty little secret that day and went on to become a National Championship World Figure Skater? Would she be stuck in this forever small town, working alongside her mother at the diner, following a dream that was never hers? All of these questions are so perfectly laid out, yet their answers tend to reveal themselves in due time.
As Ockler does so well, she introduces a boy into the mix, that has a tendency to shake things up a bit. Just as Hudson lingers back on the ice for recreation, Josh takes notice and offers to help her rebuild her dreams. Their relationship was very steady, and did not become romantic until almost the very end. Usually I'm the type of reader who wants the romance to surface a bit sooner, but in this particular story, it felt right and almost necessary to emerge towards the finale. I really appreciated the friendship that Hudson and Josh develop first, which added that much more meaning to their story as it progressed.
Bittersweet
left such a satisfying taste in my mouth upon finishing it. This YA contemporary served up just the right amount of drama, mixed with enough emotion and determination to really propel this story forward and cause me as the reader to want to go back for seconds. I've said it before, and here I am saying it again, Sarah Ockler is such a divine writer, who deserves more attention. Her writing is among the best in YA contemporaries and I wish more people recognized that. If you're new to her writings,
Bittersweet
is definitely a good starting point. I have one more backlist title to read from her, and then I'll be reliving her stories, over and over again.