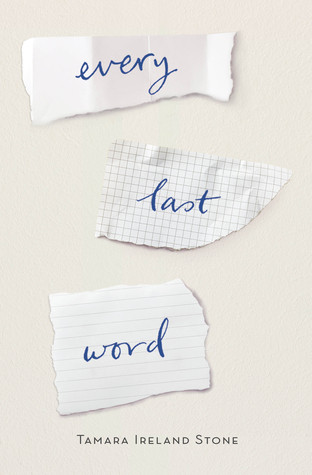 Every Last Word
by Tamara Ireland Stone
Published: June 16, 2015 by Disney-Hyperion
Source: From the publisher
If you could read my mind, you wouldn't be smiling.

Samantha McAllister looks just like the rest of the popular girls in her junior class. But hidden beneath the straightened hair and expertly applied makeup is a secret that her friends would never understand: Sam has Purely-Obsessional OCD and is consumed by a stream of dark thoughts and worries that she can't turn off.

Second-guessing every move, thought, and word makes daily life a struggle, and it doesn't help that her lifelong friends will turn toxic at the first sign of a wrong outfit, wrong lunch, or wrong crush. Yet Sam knows she'd be truly crazy to leave the protection of the most popular girls in school. So when Sam meets Caroline, she has to keep her new friend with a refreshing sense of humor and no style a secret, right up there with Sam's weekly visits to her psychiatrist.

Caroline introduces Sam to Poet's Corner, a hidden room and a tight-knit group of misfits who have been ignored by the school at large. Sam is drawn to them immediately, especially a guitar-playing guy with a talent for verse, and starts to discover a whole new side of herself. Slowly, she begins to feel more "normal" than she ever has as part of the popular crowd . . . until she finds a new reason to question her sanity and all she holds dear. [goodreads]
Oh this book. It's the type of story you want to hung tightly just as you finish reading it. I was captivated by Sam's struggles, as well as her triumphs, throughout the novel. Encountering a story involving a character with such a strong narrative is something I am always drawn to. Sam felt very authentic and alive to me, from page to page. I caught myself tearing up in moments, emotionally tied to the story, creating an investment I had to see through.
On the surface Sam's world portrays a very typical, "normal" high school girl's life. Her biggest worry is what to wear to school, and the latest gossip from her group of girl friends. However, beneath that surface there lies a much deeper, more gripping story waiting to be told. She struggles with a particular type of OCD, one that I must admit I was not fully educated on. Not only did I enjoy this story for its narrative, but I also took away a sense of knowledge and understanding that I did not have before.
I applauded Sam as she branched out and found new friendships among the Poet's Corner at her school -- this "underground" group of teens who come together to share their poetry, expressing their inner thoughts and most personal emotions. Through this group, Sam begins to understand her boundaries, and even pushes herself to unknown territories. I liked the presence of Sam's therapist and her mother, who were both very strong, solid influential people in her life. It created that safe zone for Sam that she so desperately needed when her thoughts ran away with her.
In the end, Sam delivers a touching, triumphant, and poignant journey. She stumbled quite a bit along the way, but she gained so much more ground than she ever had before. I found myself applauding her bravery, and understanding her demons. This story is the type of novel that will force you to step outside your own and truly look at others in a new light. I really appreciate the eye-opening experience Tamara Ireland Stone has awarded me with by writing this narrative. I feel that it's a story to reflect on, and continue talking about, so that we create a deeper understanding for all types of people.