The publishers at Soho Teen asked bloggers, and other readers, the following question:
"What makes you #MoreHappyThanNot?"
in preparation for Adam Silvera's debut novel
More Happy Than Not
. Naturally, I had to jump aboard this campaign and share my own answer. I thought long and hard because SO many things, little things to be exact, create happiness in my life. I felt very blessed by this realization. I could go with the simple happiness in my life, like: a good cup of coffee, fresh baked cookies, blooming flowers, a hot shower after a long day, or snuggling with my old-lady pup Daisy. But I wanted to dig deeper and express something in my life that TRULY makes me more happy than not, every day, for the past thirty-three years: My sisters.
I grew up in a house of four girls, ranging only five years from me (the youngest) to the oldest. We had our fair share of fights (mostly verbal aggressions over something that lasted only five minutes), but looking back, I am filled with countless happy memories beaming with my sisters. I don't know what kind of life I'd lead today if it weren't for them. They are my people, the ones I go to when I want to share good or bad news. They understand me like no one else. They've seen me at my worst, and have triumphed with me at my best. I don't ever want to know what life would be like without them. My sisters have always made me "more happy than not" in immeasurable ways. As one of my sisters once shared, just after our mother passed away, our mom gave us the best gift -- each other.
I'm now asking you, my readers, what makes YOU more happy than not? Please share in the comments below!
***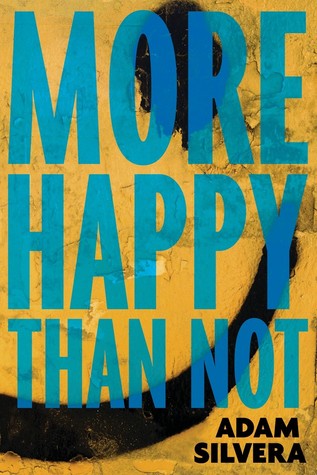 About the book:
The Leteo Institute's revolutionary memory-relief procedure seems too good to be true to Aaron Soto -- miracle cure-alls don't tend to pop up in the Bronx projects. But Aaron can't forget how he's grown up poor or how his friends aren't always there for him. Like after his father committed suicide in their one bedroom apartment. Aaron has the support of his patient girlfriend, if not necessarily his distant brother and overworked mother, but it's not enough.
Then Thomas shows up. He has a sweet movie-watching setup on his roof, and he doesn't mind Aaron's obsession with a popular fantasy series. There are nicknames, inside jokes. Most importantly, Thomas doesn't mind talking about Aaron's past. But Aaron's newfound happiness isn't welcome on his block. Since he can't stay away from Thomas or suddenly stop being gay, Aaron must turn to Leteo to straighten himself out, even if it means forgetting who he is.
Adam Silvera's extraordinary debut novel offers a unique confrontation of race, class and sexuality during one charged near-future summer in the Bronx.
[goodreads]