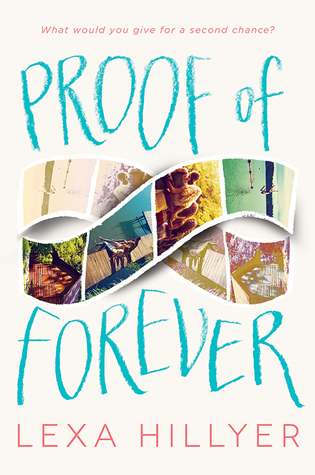 Proof of Forever
by Lexa Hillyer
Published: June 2, 2015 by HarperCollins
Source: From the publisher
Before: It was the perfect summer of first kisses, skinny-dipping, and bonfires by the lake. Joy, Tali, Luce, and Zoe knew their final summer at Camp Okahatchee would come to an end, but they swore they'd stay friends.

After: Now, two years later, their bond has faded along with those memories.

Then: That is, until the fateful flash of a photo booth camera transports the four of them back in time, to the summer they were fifteen—the summer everything changed.

Now: The girls must recreate the past in order to return to the present. As they live through their second-chance summer, the mystery behind their lost friendship unravels, and a dark secret threatens to tear the girls apart all over again.

Always: Summers end. But this one will change them forever. [goodreads]
Ever wanted to relive your summer camp days as a do-over? Well, for these four teenage girls they get that chance, plus so much more. Told in alternating chapters from third person point of view, Joy, Tali, Luce, and Zoe are all coming back to Camp Okahatchee for their summer camp reunion. While a few are reluctant to attend, others have a completely different agenda for this reunion. As they are meeting up face to face for the first time in two years, they decide to retake a series of photo booth pictures, just as they did on their last night of summer camp. When the flash goes off, however, they are thrust back in time to two years ago. While some are revolted by the idea of reliving their summer at fifteen, others see it as an opportunity to rewrite the past. But can they do that?
The concept for this novel was a lot of fun to follow. I loved the idea of it being set at summer camp. As someone who never got to experience this as a teenager, but always wanted to, I loved seeing the camper life through these four girls perspectives. They were set on a mission to get through their last week of camp two years ago in the past, hoping to find that photo booth and get back to present day. But as they attempted to not alter the past, they soon realized their fate was in their hands.
The different storylines flowed smoothly, intertwining at just the right moments, and casting enough emphasis on each girl to give their own spotlight when needed. While the story is set at summer camp, full of pranks and mischief, there are also deeper themes being discovered, which I felt gave a nice contrast for this particular story.
"Top Ten Summer Camp Essentials"
- from author Lexa Hillyer
1. Bug spray!
2. Bathing suit—a cute but practical one that you can actually move around in without creating a scandal and/or causing several of the boys to drown from distraction.
3. Journal
4. Stationary (extra points if you have a pen-pal of a romantic nature. Even if things don't work out for you two, there's nothing better than rereading old "love letters"—or love postcards—long after the flame has gone out. But warning: any crush you left back home will seem WAY better to you in your mind while at camp than he or she will when you get back to school in the fall.)
5. Sunscreen—30spf or higher. Extra sunglasses, too—you will somehow lose all of them.
6. A giant towel, to be sure you are fully covered when dashing back to the cabin from the showers!
7. One keepsake from home, a comfort item, just in case. Maybe it's a book you've read before but would love to read again.
8. Nail polish or other item that makes you feel clean and civilized for at least one night after being mostly covered in sand, grass-stains, and mosquito welts.
9. A sweatshirt. It may be boiling hot but there will be at least one rainy day or nighttime bonfire, and you can't always count on the boys at camp being gallant enough to lend you theirs. (Plus theirs probably smell.)
10. A mini-flashlight for sneaking out at night—I mean, for staying up reading PROOF OF FOREVER of course! (See what I did there?)
Enter to win a SURPRISE PACK OF HARPER ARCs!
(Open to US residents only)
a Rafflecopter giveaway