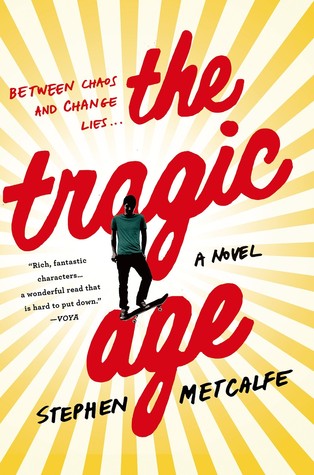 The Tragic Age
by Stephen Metcalfe
Published: March 3, 2015 by St. Martin's Griffin
Source: From the publisher
This is the story of Billy Kinsey, heir to a lottery fortune, part genius, part philosopher and social critic, full time insomniac and closeted rock drummer. Billy has decided that the best way to deal with an absurd world is to stay away from it. Do not volunteer. Do not join in. Billy will be the first to tell you it doesn't always work— not when your twin sister, Dorie, has died, not when your unhappy parents are at war with one another, not when frazzled soccer moms in two ton SUVs are more dangerous than atom bombs, and not when your guidance counselor keeps asking why you haven't applied to college.

Billy's life changes when two people enter his life. Twom Twomey is a charismatic renegade who believes that truly living means going a little outlaw. Twom and Billy become one another's mutual benefactor and friend. At the same time, Billy is reintroduced to Gretchen Quinn, an old and adored friend of Dorie's. It is Gretchen who suggests to Billy that the world can be transformed by creative acts of the soul. 

With Twom, Billy visits the dark side. And with Gretchen, Billy experiences possibilities. Billy knows that one path is leading him toward disaster and the other toward happiness. The problem is—Billy doesn't trust happiness. It's the age he's at. The tragic age.

Stephen Metcalfe's brilliant, debut coming-of-age novel, The Tragic Age, will teach you to learn to love, trust and truly be alive in an absurd world. [goodreads]
There is a voice inside
The Tragic Age
, whispering to be heard, one that had me reflecting back on my own youth and how ugly the world can be if we choose to see it that way. Billy comes from a very dysfunctional family. His mother and father had the potential to be upstanding parents, but when an (un)lucky lottery ticket cashes in their morals for blinded selfishness, they ignore heavy issues such as the death of their daughter Dorie, only to bury their problems with what money can buy. Billy knows his parents have checked out, and so he chooses the more cynical path in life and chooses to check out as well.
I was intrigued by Billy's narrative. It felt authentic to that of a teenage boy, especially one who had suffered a tragic loss, yet is still floating through life as if it never happened. He unexpectedly finds solace when a new kid shows up at school, and an old friend comes back to town as well. There were moments I found myself rooting for Billy, hoping he could emerge out from under the dysfunction of his home life and into a healthier, more stable environment among his friends. But when a problem is left untreated, it has potential to spread and take up residence in every aspect of your life.
The writing style for this novel is very unique, giving this story an edge to separate itself from others that may come across as similar. As I read this novel, it possessed the qualities of something you may see on the indie screen. Sometimes it's refreshing to come across a story that can hold its own weight, while still conquering a bold, and not so subtle narrative.
*** GIVEAWAY! ***
Three (3) copies of THE TRAGIC AGE
(Open to US and Canada residents only)
Giveaway courtesy of St. Martin's Griffin
a Rafflecopter giveaway