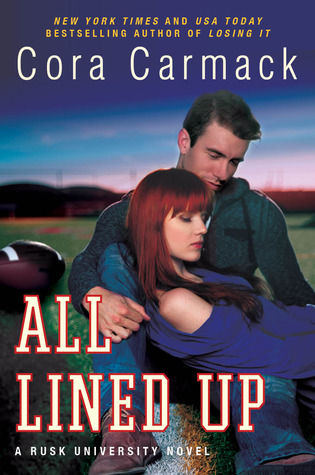 All Lined Up (Rusk University #1)
by Cora Carmack
Published: May 13, 2014 by William Morrow Paperbacks
Source: Purchased ebook
New York Times and USA Today bestselling author Cora Carmack follows up her trio of hits—Losing It, Faking It, and Finding It—with this thrilling first novel in an explosive series bursting with the Texas flavor, edge, and steamy romance of Friday Night Lights.

In Texas, two things are cherished above all else—football and gossip. My life has always been ruled by both.

Dallas Cole loathes football. That's what happens when you spend your whole childhood coming in second to a sport. College is her time to step out of the bleachers, and put the playing field (and the players) in her past.

But life doesn't always go as planned. As if going to the same college as her football star ex wasn't bad enough, her father, a Texas high school coaching phenom, has decided to make the jump to college ball… as the new head coach at Rusk University. Dallas finds herself in the shadows of her father and football all over again.

Carson McClain is determined to go from second-string quarterback to the starting line-up. He needs the scholarship and the future that football provides. But when a beautiful redhead literally falls into his life, his focus is more than tested. It's obliterated.

Dallas doesn't know Carson is on the team. Carson doesn't know that Dallas is his new coach's daughter.

And neither of them know how to walk away from the attraction they feel. [goodreads]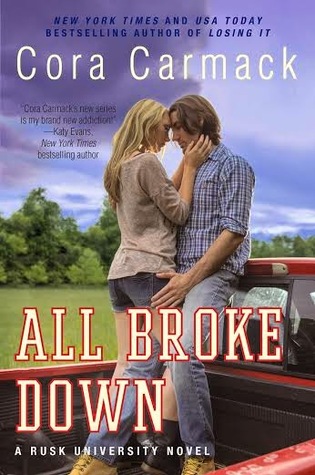 All Broke Down (Rusk University #2)
by Cora Carmack
Published: October 28, 2014 by William Morrow Paperbacks
Source: Purchased ebook
In this second book in New York Times and USA Today bestselling author Cora Carmack s New Adult, Texas-set Rusk University series, which began with All Lined Up, a young woman discovers that you can't only fight for what you believe in... sometimes you have to fight for what you love.

Dylan fights for lost causes. Probably because she used to be one.

Environmental issues, civil rights, corrupt corporations, and politicians you name it, she's probably been involved in a protest. When her latest cause lands her in jail overnight, she meets Silas Moore. He's in for a different kind of fighting. And though he's arrogant and infuriating, she can't help being fascinated with him. Yet another lost cause.

Football and trouble are the only things that have ever come naturally to Silas. And it's trouble that lands him in a cell next to do-gooder Dylan. He's met girls like her before fixers, he calls them, desperate to heal the damage and make him into their ideal boyfriend. But he doesn't think he's broken, and he definitely doesn't need a girlfriend trying to change him. Until, that is, his anger issues and rash decisions threaten the only thing he really cares about: his spot on the Rusk University football team. Dylan might just be the perfect girl to help.

Because Silas Moore needs some fixing after all. [goodreads]
________________________________________________________________________
I am usually a hit or miss when it comes to New Adult novels. I've attempted to read quite a few, but unfortunately have to DNF them because either the story falls flat, or the writing falls flat. I was weary beginning this new series by Cora Carmack for similar reasons, but after the push to read it from some very trusted reader friends, I decided to give it a try. And I am so glad I did! The Rusk University books are definitely among my favorites that I've read in NA. The stories are addicting, and the writing feeds that addiction with just enough to keep me coming back for more.
The setting takes place at Rusk University, a fictional college campus located in Texas with a football team that adds a lot of fuel to this otherwise middle of the road school. Picture Friday Night Lights meets college life and you've got yourself an image that is definitely hard to resist.
All Lined Up follows the story of Dallas, daughter of the college football team head coach. She's followed his rules and regulations her entire life, never truly listening to her own heart when it comes to what she wants. But then she meets Carson and it becomes impossible to ignore the feelings swirling in her stomach, threatening to break free if she doesn't act on them. I loved the solid story we were able to see as the chapters rotated between Dallas and Carson, giving the reader a closer look at what makes these two tick. I found myself rooting for them from the very beginning, cheering them on to seek what their hearts most desire personally and emotionally.
All Broke Down shifts gears a bit and introduces us to a new character, Dylan, a spunky girl who is active in doing good for others, yet falling short to ever take care of her own needs and wants first. But it's Silas, someone we saw a few glimpses of in the first novel, that completely stole the scene for me. He is broken and tragic, which could have definitely sunk this novel into DNF territories. Yet it did the complete opposite for me. I found myself sneaking in pages throughout my day, constantly thinking of this story, wondering what will happen next and will these two characters come out the other side together.
If you're on the fence about New Adult novels, never sure of where to start, I definitely recommend the Rusk University series. The third book will be out later this year, one I definitely want to get my hands on ASAP. Sometimes you just need a novel that will cause you to ignore some every day responsibilities, pulling you into a fictional world full of emotion and so much irresistible passion.