Hello, and welcome back to another edition of Sweet Summertime Reads Roadtrip! Each Wednesday this summer I'll be taking you on a virtual roadtrip to various places on the map and hopefully introduce you to some new reads along the way as well. I hope you have your passport because we're hopping across the northern border today and venturing into Canada as Jen from
Pop! Goes the Reader
takes us on a tour of one of her favorite places.
Bonjour and Bienvenue! Welcome to Canada! At least, my own small corner of it.


When Ginger first approached me about participating in her Sweet Summertime Reads Roadtrip series I was thrilled and I knew precisely what I wanted to talk about. But to do so, I have to first offer a little bit of an explanation.


I'm a big city girl. Having spent my formative years in a city of over 125,000 people before living in downtown Toronto while I earned my undergraduate degree at the University of Toronto, the hustle and bustle of urban life has become second nature to me. If you were to ask me what I associate the notion of 'summer reading' with, however, it is not the familiar whine of an emergency siren or the convenience of twenty-four hour takeout that I think of. Instead, it's my family's second home, our cottage, located up north on Little Bob Lake in Minden, Ontario. A two hour drive from our actual home in Newmarket, for seven months of the year our cottage is a sanctuary from the otherwise hectic life we always lead. From the moment the weather begins to warm in April until the leaves begin to change and the air begins to crisp in October, that's where I can be found every weekend and spare moment I'm able.


The town of Minden is quite small and quaint, all the more so for someone who is used to a Starbucks, Target, and big box chain store on every corner. That said, it's a refreshing change of pace. It consists primarily of one main street, sans streetlight, lined with independently-run local businesses, including one darling antique store at which I once discovered a vintage 1950's Playboy martini set in pristine condition. While the selection at these shops may not always be vast, the locals could not be more lovely and are always willing to lend a hand and will do their best to help you find whatever you might need. A river runs throughout the centre of town, earning the picturesque area the name the 'Riverwalk Commons', along which you will often find families and couples strolling hand-in-hand. While the sole movie theatre has been out of commission for some time there, there is still plenty to occupy yourself with. Not a fan of retail therapy? No problem! It isn't unusual to see visitors renting canoes or kayaks to further explore the river or see others floating lazily by on an inner-tube, often with a cone of the area's richest, creamiest ice cream from the
Kawartha Dairy
in hand.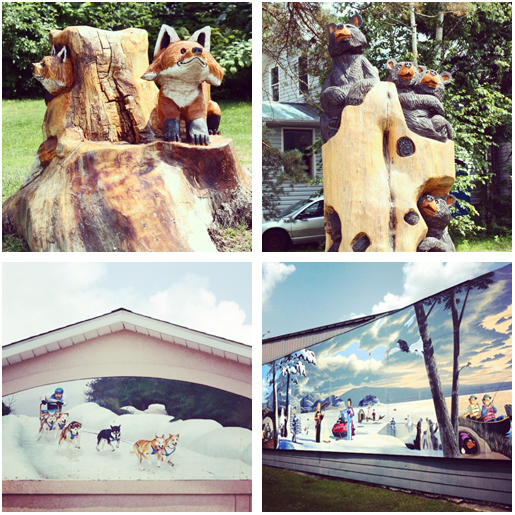 What I love most about the town, however, are the sweet, subtle touches that make even the most ordinarily area extra special. The gazebo and little gardens of wild flowers behind the shops on main street. The hand-painted mural on the side of the liquor store and at the peak of the pharmacy roof. The once-unsightly, dead tree stumps on people's front lawns, brought to life and transformed into works of art, thanks for the wood carving skills of local artists. There is no detail too small to overlook and part of the fun is finding them all!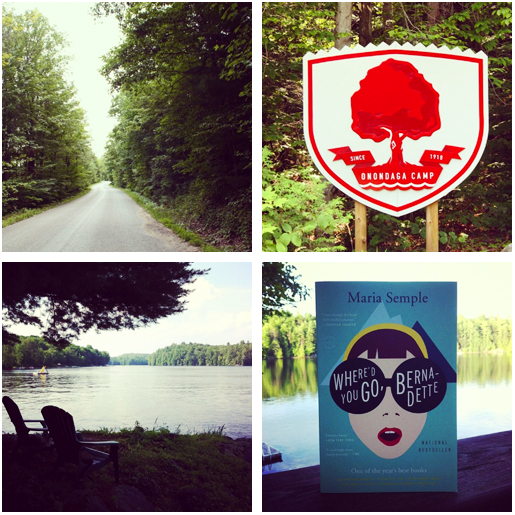 If you're looking for more active pursuits, there are plenty to be had. Water skiing, canoeing and kayaking are all everyday occurrences on the lake and there is nothing more refreshing than a quick swim in the early evening. If water sports aren't to your liking, there are literally hundreds of miles of natural hiking trails perfect for an afternoon stroll, bike ride, or brisk jog. Minden is so perfect for all manner of outdoor pursuits, in fact, that it's also the site of a prestigious, private summer camp,
Camp Onondaga
, named after one of the five Iroquois tribes.
Of course, if you ask me, the best part of the cottage is the opportunity it allows me to do nothing at all. The demands on our time and attention during an average day can be overwhelming. I'm sure there have been moments in all of our lives at which we've yearned to disconnect, decompress, and simply get away for a little while. The cottage allows me to do just that. There's nothing like standing by the shore as the sun rises above the horizon and bathes you in the light of a new day or laying on the dock at night and staring up at the beauty of the stars in the sky, undiluted by the bright lights of the city. I'll take that over the modern conveniences of the big city any day.
(all photo credits to Jen)
***
Wow. What a beautiful, serene, and charming town Minden is! Canada has been on my bucket list of places to travel for quite some time. The beauty of its land has always captured my eye and had me longing to visit so I can see it in person one day. Thank you, Jen, for showing us this peaceful and quaint corner of your world during the summer months. I would love to sit on that dock, over looking the lake at sunset with you. Throw in a few martinis and we could book talk for hours!
Be sure to come back next week as we road-trip it to Illinois to visit a different side of Chicago (the suburbs!) with Brittany. I hope you're all enjoying this summer feature. As it's coming to a close, be sure to click the "sweet summertime reads roadtrip" label at the bottom of this post to see all the past destinations we've virtually traveled to this summer.