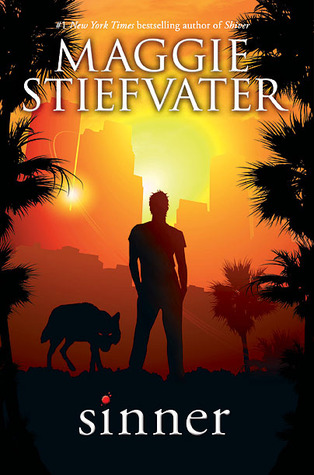 Sinner (The Wolves of Mercy Falls, #3.5)
by Maggie Stiefvater
Published: July 1, 2014 by Scholastic Press
Source: Borrowed ARC from friend
A standalone companion book to the internationally bestselling Shiver Trilogy.

Sinner follows Cole St. Clair, a pivotal character from the #1 New York Times bestselling Shiver Trilogy. Everybody thinks they know Cole's story. Stardom. Addiction. Downfall. Disappearance. But only a few people know Cole's darkest secret -- his ability to shift into a wolf. One of these people is Isabel. At one point, they may have even loved each other. But that feels like a lifetime ago. Now Cole is back. Back in the spotlight. Back in the danger zone. Back in Isabel's life. Can this sinner be saved? [goodreads]
It's been three years since I've been inside the mind of Maggie Stiefvater as she tells the story of the Wolves of Mercy Falls. I was worried that too much time had passed and it would be difficult to remember details from this trilogy. Even knowing that Cole and Isabel were secondary characters in the Shiver series, I wasn't sure if I'd need to remember specifics from where things ended in Forever. Within the first few pages of SINNER, I quickly realized that this story was one on its own. I didn't need a refresher about the wolves back in Minnesota. I found that I was embarking on the story of two sinners, who made their way to California, in search of something they didn't even realize they were looking for.
Cole St. Clair used to be the biggest thing on the radio air waves. His band, NARKOTIKA, even though it no longer existed, is still very fresh in the minds of so many beloved fans. This is why Cole has come to California, to regain some of that spotlight by appearing on a reality show and showing the world that he's cleaned up his act. But beneath all that glitz and rockstar glam, his heart is telling him that he's come back to California for a different reason: Isabel.
Isabel Culpepper guards her heart and shields her feelings from the world. She's living inside the shell of someone who used to care, about anything. Going through the motions of her mundane life, she's forced to feel again when Cole comes walking back into her life. The struggles that Isabel faced in prior novels never found their resolve, so it was interesting to see this numb girl, jaded by so many hardships, wade through the bottomless waters of this so-called life.
Maggie Stiefvater branches out and gives her beloved Shiver fans another piece of this heartbreaking, yet so beautifully written tale of two lost souls, coming together and rediscovering who they are. There is definitely a darker tone in this novel; one that kept my heart on the verge of breaking, but never fully allowing it to crumble to pieces. Though this series possesses paranormal elements, it has always kept a contemporary tone at the forefront, forcing Maggie Stiefvater's craft to shine beautifully in this standalone continuation of an already enchanting story.