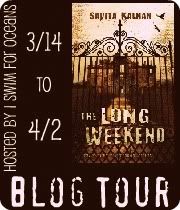 Have you read The Long Weekend by Savita Kalhan?? It's a chilling story about two boys who find themselves trapped in the middle of a nightmare that will keep you turning the pages in fear of what's to come next. The talented author Savita has stopped by GReads to answer a few questions & also present a giveaway for my followers!
Hi Ginger! Thanks for inviting me to your blog today. I'm looking forward to answering your questions!
With this being your first novel, I read that you stumbled in to writing as a dare. I'm curious, what was the dare?
Well, I lived in a country where most books were banned and I used to come back from holiday with books hidden in my suitcase. I was heavily into fantasy epics at the time – and as you know there were sometimes several books in the series! Some of them were brilliant, others were not and after the major effort of getting the books into the kingdom, it was really disappointing. My friend and I dared each other to write an epic fantasy trilogy! We both taught English and devoured books like demons, but neither of us had ever written before. I completed the challenge, but she didn't write a single word! But my friend did read every single word I wrote!
Do you see yourself always writing young adult literature? Or do you feel as though you might venture to different genres?
At the moment I'm loving what I do. I love reading teen and YA literature, but I'm a big reader and read as much adult literature. The different genres I read vary widely too. I love crime novels, fantasy epics, and world literature. So I may venture away from writing YA, but I don't think it will be for long!
Of all the places you have traveled to, which would be your favorite spot?
I think my favourite place is Malaysia. I went there on my honeymoon and loved it! I went back several years later and it was just as wonderful as I remembered it. I love the warm tropical feel it has, the people are friendly, the food is great and the sand and the sea are just glorious. I think I'm overdue another visit...
Do you have any fun quirks or habits while writing?
I tend not to hear anything when I'm working! My son will come and ask me a question and I'm nodding as he's asking, but at the end of it, I won't have heard a word he's said and he knows it!
Sometimes I talk to myself, which I know is the first sign of madness, but I can't help it!
I have notebooks dotted round the house – just in case I think of something and I'm afraid of forgetting it before I get to the laptop!
I have an enormous collection of notebooks, which came about because I wrote the fantasy epic in notebooks before transferring it to the computer. It's hundreds of thousands of words long, so I became a notebook collector – I'm always on the lookout for more!
When will we see another published book from you?
Gosh, that's a big question! If it were down to me I'd say this year, but being more realistic I'm hoping for next year. It's a tricky business and so much of it is out of the writer's control!
Thanks, for having me here, Ginger. It's been fun!
Be sure to check out her website:
Savita Kalhan
Follow her on twitter:
@savitakalhan
Or visit her Facebook:
The Long Weekend


** GIVEAWAY **
EDIT: Winner has been chosen & this giveaway is now closed!!!

Please answer the following question in the comments for a chance to win a copy of The Long Weekend! Leave your email address so that I may contact you if you're the winner, thanks.




What's your favorite place to go back to visit - and what book would you take with you?



It's always a pleasure to have an author featured here at GReads! Thanks again to Savita for stopping by. Be sure to check out her book & don't forget to answer the question above for the giveaway!