I've read a ton of adult books this year; however, I've also read quite a few really great YA contemporaries, too. Since I already compiled
my list of favorite adult romances I read in 2017
, I thought I'd feature some of my fave YA contemps I read this year as well.
I had the honor of reading some incredible debut YA contemporaries this year. A few of those make my list for all time favorites, too. I can't wait to see what those authors write next. You'll see some past love authors with their latest releases throughout this post, too. Some writers just keep wow'ing me, book after book. Man, I read some really great YA contemps this year.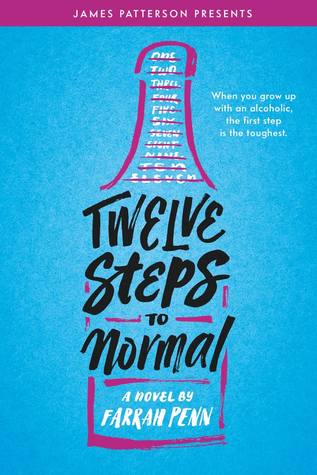 Twelve Steps to Normal by Farrah Penn
About the book: James Patterson presents this emotionally resonant novel that shows that while some broken things can't be put back exactly the way they were, they can be repaired and made even stronger.

Kira's Twelve Steps To A Normal Life

1. Accept Grams is gone.
2. Learn to forgive Dad.
3. Steal back ex-boyfriend from best friend...

And somewhere between 1 and 12, realize that when your parent's an alcoholic, there's no such thing as "normal."

When Kira's father enters rehab, she's forced to leave everything behind--her home, her best friends, her boyfriend...everything she loves. Now her father's sober (again) and Kira is returning home, determined to get her life back to normal...exactly as it was before she was sent away.

But is that what Kira really wants?

Life, love, and loss come crashing together in this visceral, heartfelt story by BuzzFeed writer Farrah Penn about a girl who struggles to piece together the shards of her once-normal life before his alcoholism tore it apart. [goodreads]
**My first thoughts after reading: Kira's story is one I feel that a lot of teens, unfortunately, can relate to. We see the aftermath of what having an alcoholic parent can do to a teenage girl's life. The story picks up just after Kira's dad exits his rehab therapy & attempts to re-enter Kira's life. From the first chapter, I immediately felt the emotional journey both Kira & her dad would take me on.
This is so much more than just a story about recovery & the effects alcoholism can have on the people that are touched by it. It's a beautiful debut novel by someone I am so proud of. Thank you, Farrah, for sharing your words with me.
Together at Midnight by Jennifer Castle
About the book: What does it really mean to be kind . . . and why does it sometimes feel like the hardest thing in the world to do? High school senior Kendall, who just returned from a life-changing semester in Europe, and Max, who is drifting his way through a gap year before college, struggle with these questions when they witness a tragic accident in New York City during the holiday season. Racked with guilt, the two accept a dare to perform random acts of kindness to strangers. The challenge pulls these two teens, who have a history together from back home, closer and closer as they explore a vibrant city filled with other people's stories and secrets.

Kendall and Max can't deny their growing bond, even though they both have other romantic entanglements and uncertain futures. As the clock counts down on New Year's Eve, will they find themselves together at midnight? [goodreads]
**My first thoughts after reading: Jennifer Castle is such a quietly strong voice in the YA community today. This is my third novel of her's to read & once again I'm wow'ed by the beauty of her storytelling.
For fans of books set in New York City, throw in the holiday season, plus a task at hand for two misguided teens — you'll want to read this novel!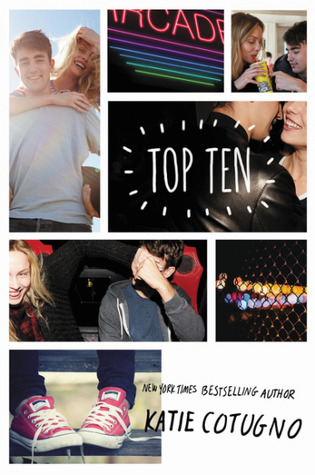 Top Ten by Katie Cotugno
About the book: Ryan McCullough and Gabby Hart are the unlikeliest of friends. Introverted, anxious Gabby would rather do literally anything than go to a party. Ryan is a star hockey player who can get any girl he wants—and does, frequently. But against all odds, they became not only friends, but each other's favorite person. Now, as they face high school graduation, they can't help but take a moment to reminisce and, in their signature tradition, make a top ten list—counting down the top ten moments of their friendship:

10. Where to begin? Maybe the night we met.
9. Then there was our awkward phase.
8. When you were in love with me but never told me…
7. Those five months we stopped talking were the hardest of my life.
6. Through terrible fights…
5. And emotional makeups.
4. You were there for me when I got my heart broken.
3. …but at times, you were also the one breaking it.
2. Above all, you helped me make sense of the world.
1. Now, as we head off to college—how am I possibly going to live without you? [goodreads]
**My first thoughts after reading: That was a one-sitting, read it in a day kind of book. Loved it!!
Words in Deep Blue by Cath Crowley
About the book: This is a love story. It's the story of a second-hand bookshop called Howling Books where people leave letters to strangers, or those they love, or want to love, between the pages of books in the Letter Library.

Henry Jones and Rachel Sweetie are best friends. Or they were. Before Rachel moved away to the sea. Now, she's back, grieving for her brother Cal who drowned in the sea that he loved.

Rachel loves Henry. Henry loves Amy. Amy loves Amy but is happy for Henry to love her too.

This is a book about books. About the power of literature to cradle our past, present and future selves. It's about how we leave ourselves behind when we die. How we leave our histories in the things we love - like books. [goodreads]
**My first thoughts after reading: Now I remember why I love Aussie YA contemps so much. This was spectacular!
The Secret History of Us by Jessi Kirby
About the book: A near drowning…a coma for days…and then…

Olivia wakes up to realize she doesn't remember. Not just the accident—but anything from the last four years. Not high school. Not Matt, the guy who is apparently her boyfriend. Not the reason she and Jules are no longer friends. Nothing.

That's when it hits her—the accident may not have taken her life, but it took something just as vital: her memory. The harder she tires to remember things, the foggier everything gets, and figuring out who she is feels impossible when everyone keeps telling her who she was.

But then there's Walker. The guy who saved her. The one who broke her ribs pumping life back into her lungs. The hardened boy who keeps his distance despite Olivia's attempts to thank him.

With her feelings growing for Walker, tensions rising with Matt, and secrets she can't help but feel are being kept from her, Olivia must find her place in a life she doesn't even remember living. [goodreads]
**My first thoughts after reading it: Just when I think I've read my favorite Jessi Kirby novel, she comes out with something new to fall in love with. The concept behind this story is so very intriguing dealing with trauma & memory loss. Kirby handles it with grace & beauty. I loved these characters, this setting, & the journey this novel takes you on. Well done, Jessi!
I Believe in a Thing Called Love by Maurene Goo
About the book: Desi Lee believes anything is possible if you have a plan. That's how she became student body president. Varsity soccer star. And it's how she'll get into Stanford. But—she's never had a boyfriend. In fact, she's a disaster in romance, a clumsy, stammering humiliation magnet whose botched attempts at flirting have become legendary with her friends.

So when the hottest human specimen to have ever lived walks into her life one day, Desi decides to tackle her flirting failures with the same zest she's applied to everything else in her life. She finds guidance in the Korean dramas her father has been obsessively watching for years—where the hapless heroine always seems to end up in the arms of her true love by episode ten. It's a simple formula, and Desi is a quick study.

Armed with her "K Drama Steps to True Love," Desi goes after the moody, elusive artist Luca Drakos—and boat rescues, love triangles, and staged car crashes ensue. But when the fun and games turn to true feels, Desi finds out that real love is about way more than just drama. [goodreads]
**My first thoughts after reading: This book reminded me of my most favorite 90s teenage rom-coms rolled into a YA read. I loved it so!
Once and For All by Sarah Dessen
About the book: As bubbly as champagne and delectable as wedding cake, Once and for All, Sarah Dessen's thirteenth novel, is set in the world of wedding planning, where crises are routine.

Louna, daughter of famed wedding planner Natalie Barrett, has seen every sort of wedding: on the beach, at historic mansions, in fancy hotels and clubs. Perhaps that's why she's cynical about happily-ever-after endings, especially since her own first love ended tragically. When Louna meets charming, happy-go-lucky serial dater Ambrose, she holds him at arm's length. But Ambrose isn't about to be discouraged, now that he's met the one girl he really wants.

Sarah Dessen's many, many fans will adore her latest, a richly satisfying, enormously entertaining story that has everything—humor, romance, and an ending both happy and imperfect, just like life itself. [goodreads]
**My first thoughts after reading: That was good. So so so good!! The complexity of Dessen's writing comes back into focus with this one, reminding me why I love her storytelling so very much.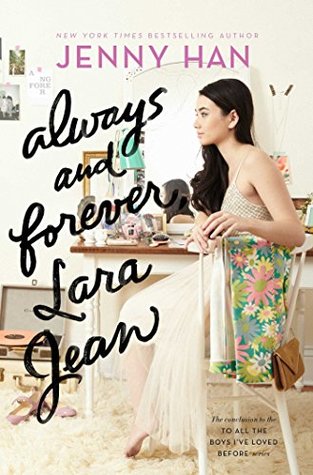 Always and Forever, Lara Jean by Jenny Han
About the book: Lara Jean is having the best senior year. And there's still so much to look forward to: a class trip to New York City, prom with her boyfriend Peter, Beach Week after graduation, and her dad's wedding to Ms. Rothschild. Then she'll be off to college with Peter, at a school close enough for her to come home and bake chocolate chip cookies on the weekends.

Life couldn't be more perfect!

At least, that's what Lara Jean thinks…until she gets some unexpected news.

Now the girl who dreads change must rethink all her plans—but when your heart and your head are saying two different things, which one should you listen to? [goodreads]
**My first thoughts after reading: I don't know if I'll ever be ready to say goodbye to these characters, but that was a pretty good send off. Well done, Jenny Han, well done.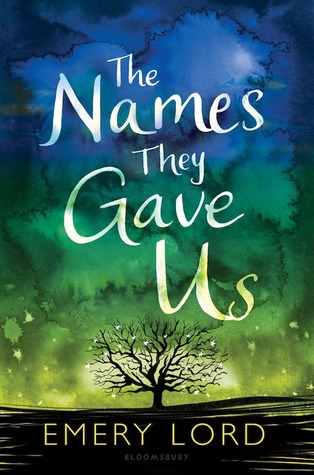 The Names They Gave Us by Emery Lord
About the book: When it all falls apart, who can you believe in?

Everything is going right for Lucy Hansson, until her mom's cancer reappears. Just like that, Lucy breaks with all the constants in her life: her do-good boyfriend, her steady faith, even her longtime summer church camp job.

Instead, Lucy lands at a camp for kids who have been through tough times. As a counselor, Lucy is in over her head and longs to be with her parents across the lake. But that's before she gets to know her coworkers, who are as loving and unafraid as she so desperately wants to be.

It's not just new friends that Lucy discovers at camp—more than one old secret is revealed along the way. In fact, maybe there's much more to her family and her faith than Lucy ever realized. [goodreads]
**My first thoughts after reading: This is Emery Lord at her finest. Her ability to write characters with such depth, emotion, and authenticity shines brightest with this novel. I found myself particularly drawn to Lucy's story for personal reasons, yet I did not expect to read words that felt as though they'd been pulled from my most intimate experiences in dealing with cancer and sick mothers. There's something to be said about an author when they have the ability to do that. The struggles Lucy endures is supported by the unexpected relationships she finds in the least likely places. It's in these moments that her darkest corners begin to shed light, creating a path she didn't quite anticipate, realizing fear does not have to lead her down it, and that love can guide her there as well.
I can't quite recommend this book enough. It's so much more than literature. It's a gift that's been given to me, one I didn't know I was looking for, but am so grateful to have received.
Alex, Approximately by Jenn Bennett
About the book: The one guy Bailey Rydell can't stand is actually the boy of her dreams—she just doesn't know it yet.

Classic movie fan Bailey "Mink" Rydell has spent months crushing on a witty film geek she only knows online as Alex. Two coasts separate the teens until Bailey moves in with her dad, who lives in the same California surfing town as her online crush.

Faced with doubts (what if he's a creep in real life—or worse?), Bailey doesn't tell Alex she's moved to his hometown. Or that she's landed a job at the local tourist-trap museum. Or that she's being heckled daily by the irritatingly hot museum security guard, Porter Roth—a.k.a. her new archnemesis. But life is whole lot messier than the movies, especially when Bailey discovers that tricky fine line between hate, love, and whatever it is she's starting to feel for Porter.

And as the summer months go by, Bailey must choose whether to cling to a dreamy online fantasy in Alex or take a risk on an imperfect reality with Porter. The choice is both simpler and more complicated than she realizes, because Porter Roth is hiding a secret of his own: Porter is Alex…Approximately. [goodreads]
**My first thoughts after reading: This lived up to all my expectations + more. Jenn Bennett is now on my list of auto-buy others. I loved the messy characters, the rich setting, and the irresistible charm within this storyline. It is #SuchAGingerRead.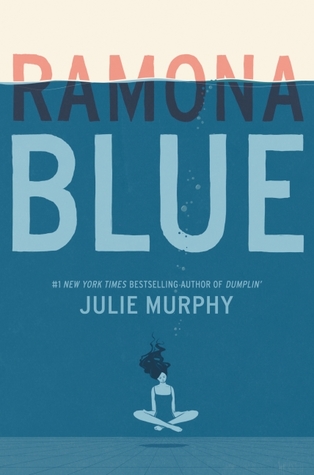 Ramona Blue by Julie Murphy
About the book:
Ramona was only five years old when Hurricane Katrina changed her life forever.
Since then, it's been Ramona and her family against the world. Standing over six feet tall with unmistakable blue hair, Ramona is sure of three things: she likes girls, she's fiercely devoted to her family, and she knows she's destined for something bigger than the trailer she calls home in Eulogy, Mississippi. But juggling multiple jobs, her flaky mom, and her well-meaning but ineffectual dad forces her to be the adult of the family. Now, with her sister, Hattie, pregnant, responsibility weighs more heavily than ever.
The return of her childhood friend Freddie brings a welcome distraction. Ramona's friendship with the former competitive swimmer picks up exactly where it left off, and soon he's talked her into joining him for laps at the pool. But as Ramona falls in love with swimming, her feelings for Freddie begin to shift too, which is the last thing she expected. With her growing affection for Freddie making her question her sexual identity, Ramona begins to wonder if perhaps she likes girls and guys or if this new attraction is just a fluke. Either way, Ramona will discover that, for her, life and love are more fluid than they seem.
[goodreads]
**My first thoughts after reading: If I could, I would give this book all the stars. I have admired Julie Murphy's work since her debut, but something about this particular story really clings to my heart.
In a world where people are so quick to place labels & cast judgements, this novel is every bit needed & appreciated. I love Ramona & I love her little town of beautiful characters.
Add this novel to your must read list & go ahead & order it. I'm already doing the same.
The Last Thing You Said by Sara Biren
About the book: Last summer, Lucy's and Ben's lives changed in an instant. One moment, they were shyly flirting on a lake raft, finally about to admit their feelings to each other after years of yearning. In the next, Trixie—Lucy's best friend and Ben's sister—was gone, her heart giving out during a routine swim. And just like that, the idyllic world they knew turned upside down, and the would-be couple drifted apart, swallowed up by their grief. Now it's a year later in their small lake town, and as the anniversary of Trixie's death looms, Lucy and Ben's undeniable connection pulls them back together. They can't change what happened the day they lost Trixie, but the summer might finally bring them closer to healing—and to each other. [goodreads]
**My first thoughts after reading: With a slow start, I was anxious to see where this book would take me. Never did I imagine I'd lose myself at the lake, on a hot summer day, caught somewhere between grief & hope. This is the type of story that will creep up on you & fill you with overwhelming emotions. I love contemporary YA that has that effect on me.
Oh this book, friends, add it to your TBR list!
Kissing Max Holden by Katy Upperman
About the book: Kissing Max Holden was a terrible idea...

After his father has a life-altering stroke, Max Holden isn't himself. As his long-time friend, Jillian Eldridge only wants to help him, but she doesn't know how. When Max climbs through her window one night, Jill knows that she shouldn't let him kiss her. But she can't resist, and when they're caught in the act by her dad, Jill swears it'll never happen again. Because kissing Max Holden is a terrible idea.

With a new baby sibling on the way, her parents fighting all the time, and her dream of culinary school up in the air, Jill starts spending more and more time with Max. And even though her father disapproves and Max still has a girlfriend, not kissing Max is easier said than done. Will Jill follow her heart and allow their friendship to blossom into something more, or will she listen to her head and stop kissing Max Holden once and for all? [goodreads]
**My first thoughts after reading: At first glance this book appears to have all the ingredients for a sweet, sugary YA contemp. However, after a few chapters the ingredients begin to marinate & simmer in a story about family, young love, & the deep emotions that can both break & bind those relationships.
Katy Upperman delivers a swoon-worthy read that will break your heart, but remind us how to mend those broken pieces, too. Add this one to your TBR!
Did any of these books make it to your favorites list read in 2017? I hope I've added some new reads to your TBR, if not! Please let me know in the comments about some of your favorite YA contemps you've read this year.