The summer flew by in a blink of an eye, but then it became the "never ending summer" around here with Hurricane Harvey and the delayed start of school. Now I can hardly believe it's already October! As much as I love summer (let's be real, I'll always be a summer girl!), Fall is a close runner-up for fave seasons. I love baking with seasonal delights such as apples, cinnamon, and pumpkin. There's something so toasty about curling up on the couch with a warm cup of flavored coffee and a good book. And I'll be honest, we give a big sigh of relief for cooler temps around here (those 100 degree days can take a toll on you).
So this got me thinking... time to hibernate and get some reading done! But what's coming out soon?! I thought I'd compile a list of YA books publishing this fall that I am most looking forward to reading. Hopefully this post puts some new ones on your radar, too. Let me know what you're planning to read this fall!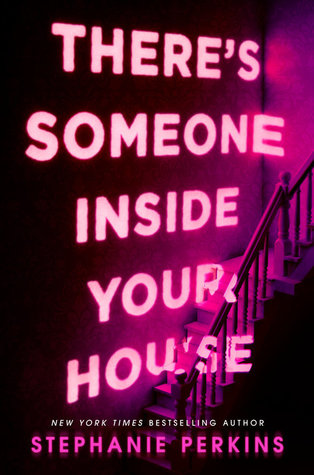 There's Someone Inside Your House by Stephanie Perkins
Published: September 26, 2017
About the book: Scream meets YA in this hotly-anticipated new novel from the bestselling author of Anna and the French Kiss.

One-by-one, the students of Osborne High are dying in a series of gruesome murders, each with increasing and grotesque flair. As the terror grows closer and the hunt intensifies for the killer, the dark secrets among them must finally be confronted.

International bestselling author Stephanie Perkins returns with a fresh take on the classic teen slasher story that's fun, quick-witted, and completely impossible to put down. [goodreads]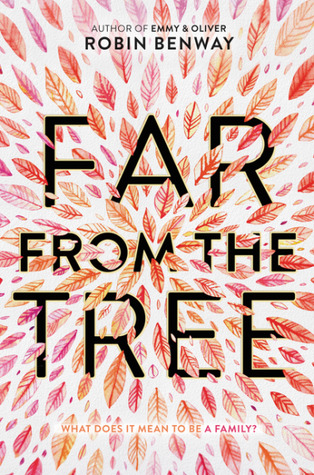 Far from the Tree by Robin Benway
Published: October 3, 2017
About the book: A contemporary novel about three adopted siblings who find each other at just the right moment.

Being the middle child has its ups and downs.

But for Grace, an only child who was adopted at birth, discovering that she is a middle child is a different ride altogether. After putting her own baby up for adoption, she goes looking for her biological family, including—

Maya, her loudmouthed younger bio sister, who has a lot to say about their newfound family ties. Having grown up the snarky brunette in a house full of chipper redheads, she's quick to search for traces of herself among these not-quite-strangers. And when her adopted family's long-buried problems begin to explode to the surface, Maya can't help but wonder where exactly it is that she belongs.

And Joaquin, their stoic older bio brother, who has no interest in bonding over their shared biological mother. After seventeen years in the foster care system, he's learned that there are no heroes, and secrets and fears are best kept close to the vest, where they can't hurt anyone but him. [goodreads]
Calling My Name by Liara Tamani
Published: October 24, 2017
About the book: Taja Brown lives with her parents and older brother and younger sister, in Houston, Texas. Taja has always known what the expectations of her conservative and tightly-knit African American family are—do well in school, go to church every Sunday, no intimacy before marriage. But Taja is trying to keep up with friends as they get their first kisses, first boyfriends, first everythings. And she's tired of cheering for her athletic younger sister and an older brother who has more freedom just because he's a boy. Taja dreams of going to college and forging her own relationship with the world and with God, but when she falls in love for the first time, those dreams are suddenly in danger of evaporating. [goodreads]
Now Is Everything by Amy Giles
Published: November 7, 2017
About the book: Now Is Everything is a stirring debut novel told in alternating THEN and NOW chapters, perfect for Sarah Dessen and Jennifer Niven fans, about what one girl is willing to do to protect her past, present, and future.

The McCauleys look perfect on the outside. But nothing is ever as it seems, and this family is hiding a dark secret.

Hadley McCauley will do anything to keep her sister safe from their father. But when Hadley's forbidden relationship with Charlie Simmons deepens, the violence at home escalates, culminating in an explosive accident that will leave everyone changed.

When Hadley attempts to take her own life at the hospital post-accident, her friends, doctors, family, and the investigator on the case want to know why. Only Hadley knows what really happened that day, and she's not talking. [goodreads]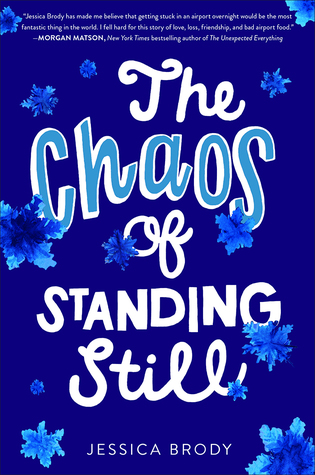 The Chaos of Standing Still by Jessica Brody
Published: November 28, 2017
About the book: Over the course of one chaotic night stranded at the Denver airport, Ryn confronts her shattered past thanks to the charm of romance, the uniqueness of strangers, and the magic of ordinary places in this stunning novel from the author of Boys of Summer.

Ryn has one unread text message on her phone. And it's been there for almost a year.

She hasn't tried to read it. She can't. She won't. Because that one message is the last thing her best friend ever said to her before she died.

But as Ryn finds herself trapped in the Denver International Airport on New Year's Eve thanks to a never-ending blizzard on the one-year anniversary of her best friend's death, fate literally runs into her.

And his name is Xander.

When the two accidentally swap phones, Ryn and Xander are thrust into the chaos of an unforgettable all-night adventure, filled with charming and mysterious strangers, a secret New Year's Eve bash, and a possible Illuminati conspiracy hidden within the Denver airport. But as the bizarre night continues, all Ryn can think about is that one unread text message. It follows her wherever she goes, because Ryn can't get her brialliantly wild and free-spirited best friend out of her head.

Ryn can't move on.

But tonight, for the first time ever, she's trying. And maybe that's a start.

As moving as it is funny, The Chaos of Standing Still is a heartwarming story about the earth-shattering challenges life throws at us—and the unexpected strangers who help us along the way. [goodreads]
I'm always looking for more Adult & New Adult books as well. Do you know any publishing this Fall that you're excited to read?
Please let me know in the comments.