As you are reading this, I am currently living my best summer life possible -- at the beach!! Nothing is more sweeter than the sunshine on your bare shoulders and sand between your toes. Okay, well, maybe a good book to go along with it.
So, I am beyond thrilled to feature a very SWEET book by one of my favorite authors, Miranda Kenneally. Her eighth book in the Hundred Oaks series publishes tomorrow, but today I've got Miranda here to answer my questions on all things COMING UP FOR AIR.
Those who know me understand that I have a special place in my heart for swimming (it might have something to do with those good looking swimmer dudes, haha). I love watching swimmers race, and am always blown away by their physical endurance. Miranda has written a story all about swimming from a teenager's point of view. But in true Kenneally fashion, she's excelled at presenting the real struggles so many teens encounter and can relate to. Yes, I love that this book is all about swimmers, but I love it even more for featuring a strong female lead that questions what she should do and what she wants to do, yet still being true to herself in the end. This is a definite must read for the summer!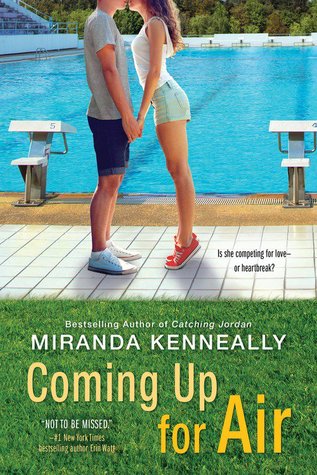 About the book: Swim. Eat. Shower. School. Snack. Swim. Swim. Swim. Dinner. Homework. Bed. Repeat.

All of Maggie's focus and free time is spent swimming. She's not only striving to earn scholarships—she's training to qualify for the Olympics. It helps that her best friend, Levi, is also on the team and cheers her on. But Levi's already earned an Olympic try out, so she feels even more pressure to succeed. And it's not until Maggie's away on a college visit that she realizes how much of the "typical" high school experience she's missed by being in the pool.

Not one to shy away from a challenge, Maggie decides to squeeze the most out of her senior year. First up? Making out with a guy. And Levi could be the perfect candidate. After all, they already spend a lot of time together. But as Maggie slowly starts to uncover new feelings for Levi, how much is she willing to lose to win? [goodreads]
Author Interview with Miranda Kenneally
1. Tell us a little bit about your new book, Coming Up for Air.
COMING UP FOR AIR is about Maggie, a champion swimmer who spends all her time in the pool. As she's about to graduate high school, she starts to worry that she might have missed out on important teenage experiences, like having a boyfriend and worries that she's going to be the only person at college who's never fooled around. So she asks her best guy friend Levi to teach her the basics of hooking up.
I admit the plot may sound like a fluffy trope but it was important for me to show readers that everybody moves at their own pace when it comes to physical relationships, and that it's okay if you are a different point in your life than your friends. Maggie comes to understand that she wants an emotional connection as much as the physical, but that other people may want the physical without the emotion. And that's ok. What's important is figuring out YOUR comfort level when it comes to sexuality. It's your body, your feelings, and your life.
2. Since this is the last book in the Hundred Oaks series, what made you decide to end with this one?
I am really proud of this book and wanted this series to go out on a high note! I probably could've written another book, but two more? I wasn't sure if I had it in me to write two more books that I would be proud of. I would hate disappointing readers by giving them a bad product. And wouldn't it be weird if it were a nine-book series?
3. When you're not writing, or researching for writing, what occupies your time?
Reading and eating Mexican food! Also, working at the State Department, hanging out with my husband and cat, running, and working out at the gym, and riding my bike... to the Mexican place.
4. Out of all your characters, which one sticks out as a favorite (or most memorable) for you?
The characters I've known the longest are Sam Henry and Jordan. They both appeared on the first page of the first draft I ever wrote for this series. But the character that truly sticks out is Jesse Scott from Jesse's Girl. I started working on him back in 2010! He is so complicated - crotchety and guarded, but also caring (and sexy!). I love his sense of humor. And to think, Jesse and Maya nearly didn't get together, or even have a book!
Several beta readers and publishing professionals told me it would be cliche if the famous guy Jesse actually got together with not-famous Maya (the main character) of Jesse's Girl, so I tried giving her another love interest, which didn't work at all. It made the story so contrived and lame. Maya and the other guy had no chemistry. It wasn't until I just ignored all the critics and let my characters be together that I was happy with the story.
5. Is there a sport-related story you thought about writing as part of the Hundred Oaks series, but didn't follow through with?
I always wanted to write a book about hot lifeguards, but couldn't come up with a plot! At least with COMING UP FOR AIR I got to write about hot guys in swimsuits.
6. If your characters were all hanging out, which ones would it be and what might they be doing?
Jack Goodwin's family loves throwing lavish parties at their horse farm. I'm sure most of my characters are all at his massive 4th of July celebration! After having perhaps one too many cocktails, they abandon the swanky party in the tent when Jordan challenges everyone to a badminton tournament. Is it too late to write a Hundred Oaks book about badminton? *wink wink*
---
Thank you so much, Miranda, for answering my questions! If you're anxious to read this book after finding out more about it, here's your chance to win a signed copy from the author. Giveaway is open to US residents only -- good luck!!
a Rafflecopter giveaway