Where I read a book and then label it as "Such a Ginger Read" because, well, it is such a Ginger read. To see my first edition post of this new feature,
please click here.
If someone were to ask what this teacher did on her summer break, my answer would be: I READ A LOT OF BOOKS!! I've been going through some review books, as well as some new releases. As always, heavy on the romance! I decided to feature three of my latest romance reads on the blog because even though they're all very different, each one is definitely deemed as Such a Ginger Read! + I'm giving away an ebook copy of one of these reads, so be sure to enter at the bottom!
Mister Romance by Leisa Rayven
About the book: As his alter-ego Mister Romance, Max is a drop-dead gorgeous escort who makes romantic fantasies come to life. No sex, just swoon-worthy dates to die for, and the cream of New York's socialites can't get enough. Whether they want a dominating billionaire, bad boy with a heart of gold, hot geek, sexy biker, or best friend who loves them from afar, Max can make it all happen, but he's careful to keep his real identity a secret.

Enter investigative journalist Eden Tate. Having caught wind of the urban legend of Mister Romance from a lovestruck client, Eden is determined to publish a scathing expose on Max and his ability to swindle lonely society women out of their fortunes.

Desperate to protect his anonymity and his clients, Max challenges Eden to give him three dates. If she doesn't fall in love with him, she can run her story with his blessing. If she succumbs to his charms, the story dies.

Cynical Eden has no doubt she can resist his fake romance personas, but when the real Max admits he's falling for her, she has to decide if the professional liar is telling the truth, or if the passionate man with the mysterious past is just one more character designed to con her out of her career-making story. [goodreads]
This story was a whole lot of fun to read! Eden is very cynical when it comes to true romance, so when she takes on the job to investigate the city's most recommended escort, she is not prepared for the guy behind the scenes. I don't want to give too much away because that was part of the fun; discovering Max's identity. The banter between these two characters was steamy and irresistible. If you're looking for an adult romance that thinks a bit out of the box, then I definitely recommend this one. MISTER ROMANCE grabbed my attention and had me so entertained throughout, that is why I feel it is Such a Ginger Read.
---
Dear Aaron by Mariana Zapata
About the book: Ruby Santos knew exactly what she was getting herself into when she signed up to write a soldier overseas.

The guidelines were simple: one letter or email a week for the length of his or her deployment. Care packages were optional.

Been there, done that. She thought she knew what to expect.
What she didn't count on was falling in love with the guy. [goodreads]
Do you like a little more emotion with your romance? Then I highly recommend this Mariana Zapata novel. She is the queen of slow burn and I have yet to find an adult contemporary romance writer who does it better. Ruby is writing letters to soldiers overseas because she knows how emotionally draining it can be for them. When she gets connected with Aaron, the most unexpected happens, and so begins a beautiful friendship. I really appreciated the slow build of their relationship simply through letters, then through chats on the Internet. It puts the reader inside their minds and made their connection that much more real. This is highly recommended if you're a fan of strangers to friends to lovers romance tropes. But don't worry, it's not all written in letter format. Eventually these two do meet and it is HOT. So naturally that is why I refer to it as Such a Ginger Read.
---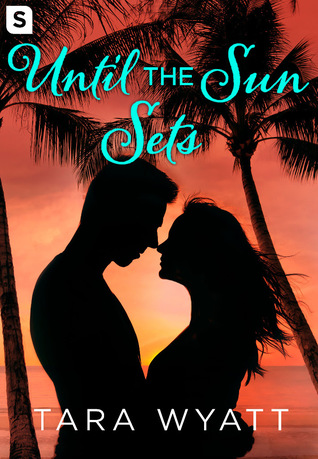 Until the Sun Sets by Tara Wyatt
About the book: Two best friends at a destination wedding in Mexico are forced into a fake relationship; but when one kiss turns into a week-long fling, could this change everything?

Dean Grayson doesn't do commitment. So when his cousin asks Dean to bring a date to his wedding in Mexico, he asks his best friend, Carly Jensen, to come with him. After a recent break up, Carly's feeling like she'll never find love, so a week in Mexico with her best friend-slash-boss is the perfect way to take her mind off things.

As fate would have it, Carly's ex is also a guest at the wedding…with his new girlfriend. To protect her pride, Carly and Dean decide to fake a relationship for the week. But between the sand, surf, and sharing a bed, these friends turned lovers realize they're meant for something more.

Until the Sun Sets combines everything summer into a sweet, sexy novella that's the perfect beach read! [goodreads]
Oh this book is everything I love in a short, sweet, and sultry summer romance! Take two best friends who are thrust into a fake relationship (their doing, of course) set in the tropical beaches of Mexico. I loved everything about the set up of this story, but it was the characters that truly won me over. For being a novella, I felt instantly connected to both Carly and Dean. Their pretend relationship was fun to witness as it began to blur lines, and both sides started to notice the other in a different light. Dudes in swim trunks, playing beach volleyball, and hot summer nights skinny dipping in the ocean were just a few moments that raised the heat factor in this romance. I didn't realize how much I enjoy get away stories like this! Give me beach + romance + fun fake relationships and you've got yourself Such a Ginger Read!
---
Did any of these books catch your eye? If so, here's your chance to win one! I'm giving away an ebook of your choice (Mister Romance, Dear Aaron, or Until the Sun Sets). This giveaway is open to those who have access to Amazon kindle (US). Good luck!
a Rafflecopter giveaway