Don't have plans this evening? Then you're invited to come chat with us on twitter! As part of my Sweet Summertime Reads feature, I am hosting a twitter chat with YA authors Trish Doller and Miranda Kenneally. Both of these lovely ladies have books being published this summer & we want to chat about them!
I've had the pleasure of reading both of their latest works early on and have been gushing about their stories ever since. I hope you'll stop by, grab a tasty beverage, and chat us up tonight!
We'll begin at 8pm CST, using hashtag #SSRChat. Please follow us on twitter:
@GReadsBooks
@TrishDoller
@MirandaKennealy
More about their books
:
Caroline Kelly is excited to be spending her summer vacation working at the local amusement park with her best friend, exploring weird Ohio with her boyfriend, and attending soccer camp with the hope she'll be her team's captain in the fall.

But when Caroline's mother is hired to open an eye clinic in Cairo, Egypt, Caroline's plans are upended. Caroline is now expected to spend her summer and her senior year in a foreign country, away from her friends, her home, and everything she's ever known.

With this move, Caroline predicts she'll spend her time navigating crowded streets, eating unfamiliar food, and having terrible bouts of homesickness. But when she finds instead is a culture that surprises her, a city that astounds her, and a charming, unpredictable boy who challenges everything she thought she knew about life, love, and privilege.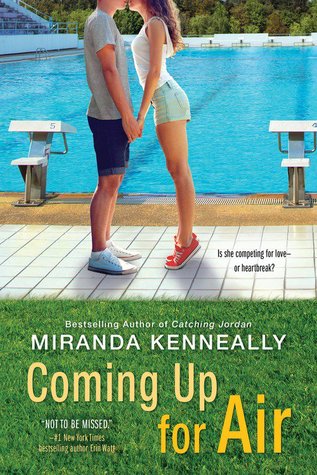 Swim. Eat. Shower. School. Snack. Swim. Swim. Swim. Dinner. Homework. Bed. Repeat.

All of Maggie's focus and free time is spent swimming. She's not only striving to earn scholarships—she's training to qualify for the Olympics. It helps that her best friend, Levi, is also on the team and cheers her on. But Levi's already earned an Olympic try out, so she feels even more pressure to succeed. And it's not until Maggie's away on a college visit that she realizes how much of the "typical" high school experience she's missed by being in the pool.

Not one to shy away from a challenge, Maggie decides to squeeze the most out of her senior year. First up? Making out with a guy. And Levi could be the perfect candidate. After all, they already spend a lot of time together. But as Maggie slowly starts to uncover new feelings for Levi, how much is she willing to lose to win?