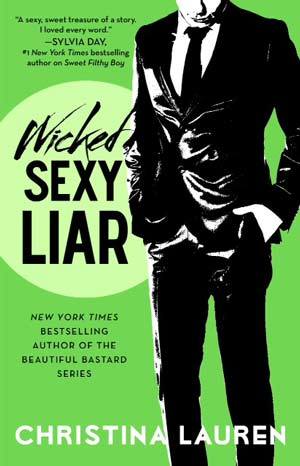 Wicked Sexy Liar (Wild Seasons, #4)
by Christina Lauren
Published: February 2, 2016 by Gallery Books
Source: From the publisher
When three college besties meet three hot guys in Vegas, anything can—and does—happen. Book Four in the New York Times Wild Seasons series that began with Sweet Filthy Boy (the Romantic Times book of the year that Sylvia Day called "a sexy, sweet treasure of a story"), Dirty Rowdy Thing, and Dark Wild Night.

For two people ambivalent about dating and love, they sure get naked around each other an awful lot . . .

London Hughes is very content to surf daily, tend bar, hang out with her group of friends, and slowly orient herself in the years after college. Everything's going great and according to the non-plan.

But when a wave knocks her for a loop one morning, then Luke Sutter's flirtatious smile knocks her for another that evening, she veers slightly off course…and into his path. Sure, he's a total player, but the Why not—it's only one night is a persistent voice in her ear.

For his part, Luke's been on hookup autopilot for so long that he rarely ever pauses to consider what he's doing. But after an amazing time with London, he realizes that he hasn't been moving on from a devastating heartbreak so much as he's been drifting to wherever—and whomever—the current takes him. With London he wants more.

Every relationship involves two people…plus their pasts. And as much as she enjoys her fling with Luke, when London learns about his past—more specifically, who's in it—everything becomes the brand of complicated she strives to avoid. It's up to Luke then to change some things in order to try and ensure he's not something she'll outright avoid as well. [goodreads]
A Christina Lauren book, especially in this series, never fails to disappoint me. I was lucky to receive a copy from the publisher so that I could share my love for this series yet again. Losing myself to the pages of this fictional, yet so irresistible world, has become my ultimate happy place.
I feel like Luke and London are the two characters I knew the least in this series so far. That's one of the beauties about these stories is that we get glimpses of past characters, or up and coming characters from book to book, so it feels as though each story steadily flows into the next. However, with Luke and London, I was only aware of their statuses of who they were, never truly know HOW they were. I liked that mystery quite a bit.
London is tending bar at night, while surfing the waves during the day. Her dream to be a graphic designer still lingers, yet she hasn't quite found the push to turn dream into reality. One night while pouring drinks, she meets Luke -- every bit the opposite of her usual type. A proposition is made, and in true Christina Lauren fashion, these two act first and think later. What should have been just a one night thing, slowly creeps into something more as Luke continues to show up at London's bar, and its not just the drinks that are mixing with her mind.
I loved the push and pull these characters had on one another. Their intensity was so infectious, immediately causing me to root for them. Understanding London's hesitancy, and Luke's throw caution to the wind, there were some serious sparks flying back and forth. There is also a deeper story, from both their pasts that plays a big role into the people they are today. It always amazes me how the writing duo of Christina Lauren can so perfectly articulate the messy side to love, yet portrays the beauty in what letting go can become.
It's no surprise that I read this book in 24 hours. I am, and continue to be, a total Christina Lauren fangirl -- especially for this particular series. I'm curious if this will be the final chapter in the lives of these characters I've grown to love... or will they come back and surprise us with another irresistible tale? Either way, I know I can always rely on a good re-read to pull me away and surrender to an addicting literary experience.