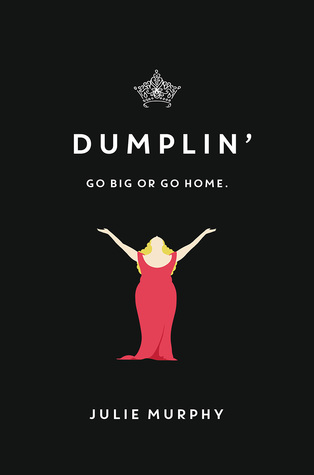 DUMPLIN'
by Julie Murphy
Published: September 15, 2015 by Balzer + Bray
Source: ARC gifted to me by the author <3
Self-proclaimed fat girl Willowdean Dickson (dubbed "Dumplin'" by her former beauty queen mom) has always been at home in her own skin. Her thoughts on having the ultimate bikini body? Put a bikini on your body. With her all-American beauty best friend, Ellen, by her side, things have always worked . . . until Will takes a job at Harpy's, the local fast-food joint. There she meets Private School Bo, a hot former jock. Will isn't surprised to find herself attracted to Bo. But she is surprised when he seems to like her back.

Instead of finding new heights of self-assurance in her relationship with Bo, Will starts to doubt herself. So she sets out to take back her confidence by doing the most horrifying thing she can imagine: entering the Miss Clover City beauty pageant—along with several other unlikely candidates—to show the world that she deserves to be up there as much as any twiggy girl does. Along the way, she'll shock the hell out of Clover City—and maybe herself most of all.

With starry Texas nights, red candy suckers, Dolly Parton songs, and a wildly unforgettable heroine— Dumplin' is guaranteed to steal your heart. [goodreads]
DUMPLIN' has done more than just steal my heart, it has completely run away with it, never to be seen again. I was mesmerized, inspired even, by Julie Murphy's debut
Side Effects May Vary
, so to say I had high standards for her follow up is an understatement. I've never been more terrified to read an already hyped up, beloved book by so many early readers. Plus, there's the fact that I adore Julie Murphy as an author, too. She's my home-state girl and I love meeting up with her any chance I get. So yeah, expectations, meet my already soaring standards.
I could sum up this story as a girl who enters a beauty pageant to show her small town there's more to life than just a made up beauty queen. Or I could mention the cute boy who challenges this same girl's confidence, causing her to question what she really sees in the mirror. But honestly, it's so much more than that. This novel breaks the mold on what every teenager tackles: self image. I can remember the days where I, too, had my doubts on what I looked like and if I'd be accepted or not. I'd be lying if I told you I didn't. It's such a hard thing to overcome, especially the voices inside your own head... the ones whispering you're not pretty enough, you're too fat, no one will ever go out with you. But looking back, I realize those voices were not just my own. There are so many others hearing those same words, too.
Willowdean is my everything I wished I was, and everything I still strive to be. She begins the story with this oozing confidence, of not caring what others think, and just living out her days as Ellen's best friend. But when she's noticed by someone, and I mean really, truly admired by someone, her confidence sinks and all those whispering voices inside her head begin shouting out every doubt possible. She starts to see herself as the fat girl, and expects that is how everyone else sees her, too. My heart began to break in these moments. She lost site of her inner beauty and only chose to focus on what she thought was being projected back at her in the mirror.
In an effort to stand up against the town's precious beauty pageant, she enters as a contestant, but never expects to win. Why can't she be deemed beautiful, too? I loved her passion to basically say F*** You to everyone who thought she wasn't beauty pageant material, and adored her school mates that stood up with her as well. Together, they learned how to walk in a formal gown, and discovered their hidden talents. I found myself cheering them on, but I was still worried about Willowdean and her reason for joining. Was it just out of spite? Or did she really have something to prove? In the end, its the battle she has to overcome within herself that shines the brightest on that stage.
Dumplin' is more than just a story about a young girl trying to win the crown. She's someone who has to fight extra hard, and fall down extra hard too, before she realizes just how beautiful she truly is. It took me years before I felt comfortable in my own skin, and to this day I still have my doubts. Witnessing Willowdean as she transforms into this truly confident and mesmerizing soul took my breath away. The cast of people who held her up, stood by her, and cheered her on captured my heart as well. It's the kind of story you want every young person to read. It's the kind of story that will linger with you, long after you've read the final page. I may even find myself quoting "Y'all hail the queen!" a time a two.
Enter below for a chance to win this AMAZING giveaway box full of sweet swag + an ARC of Dumplin' --- Y'all, this giveaway box is so awesome, I'm even jealous of the winner! Julie Murphy is the queen of swag & this box proves it. Best of luck to all entrants!
Giveaway Details:
+ Must be a US resident
+ Ends on August 28, 2015
+ Please see my policies page for further contest rules
Already preordered a copy of
Dumplin'
? Then be sure to check out this preorder campaign
HERE
.
a Rafflecopter giveaway