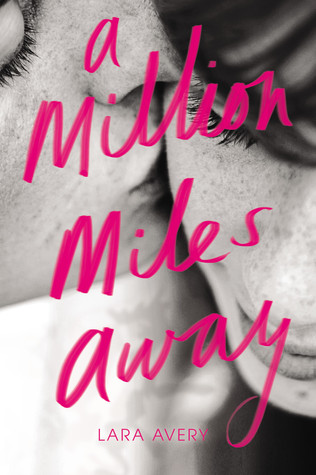 A Million Miles Away
by Lara Avery
Published: July 7, 2015 by Poppy
Source: ARC from a friend
Perfect for fans of Nicholas Sparks, this breathtaking story of love and loss is guaranteed to break your heart and sweep you off your feet.

When high school senior Kelsey's identical twin sister, Michelle, dies in a car crash, Kelsey is left without her other half. The only person who doesn't know about the tragedy is Michelle's boyfriend, Peter, recently deployed to Afghanistan. But when Kelsey finally connects with Peter online, she can't bear to tell him the truth. Active duty has taken its toll, and Peter, thinking that Kelsey is Michelle, says that seeing her is the one thing keeping him alive. Caught up in the moment, Kelsey has no choice: She lets Peter believe that she is her sister.

As Kelsey keeps up the act, she crosses the line from pretend to real. Soon, Kelsey can't deny that she's falling, hard, for the one boy she shouldn't want. [goodreads]
Oh this book. It's left me in such a mess of emotions. I did not foresee the pull this story would have on me. It's the kind of narrative that leads you down a path you can't find your way out of, and certainly don't ever want to. I was completely entranced by this story, as real as it felt to me, and found myself submerged in the beauty of its writing.
Kelsey's twin sister has suddenly died. These two girls, who were once inseparable, have become their own identities in their teen years. Kelsey being the strong, life of the party girl; while her sister Michelle is the artsy, more introvert, yet emotional one. I had a really strong grasp on the individuality of these two girls as the story progressed, which made my want to keep reading that much richer. I felt like I knew these characters, so alive and vivid. Yet one is now gone, and the other is left in the wake of her own grief.
Witnessing Kelsey as she navigates this new life, twin-less, was hard to see. My heart went out to her as she tried to keep up the strong facade, yet inside she was a million crumbling pieces. I almost understood her reasoning for lying to Peter, at first, about who she really was. Peter knew Michelle had a twin before he was deployed. But once he was in Afghanistan, he had no idea Michelle was now gone and it was Kelsey he was really connecting with. As their relationship grew so many miles apart, they discovered a solace in one another -- Kelsey was able to hold on to Michelle and the memory of her sister, while Peter had a connection to the world outside his reality of war. These two lost souls found one another, when they needed it most.
As the story progressed and Kelsey's feelings for Peter strengthened, it became a bit difficult to watch the disaster that would soon come. Eventually Peter would have to know that Michelle was gone. He had to. I read this book in a day because I was so engrossed with it. I could not put it down until I knew that these two characters would be okay. They took me on such an emotional roller coaster, one I had not expected. But sometimes, its books like these that stay with me the most. They are the stories I find myself recommending for years to come.