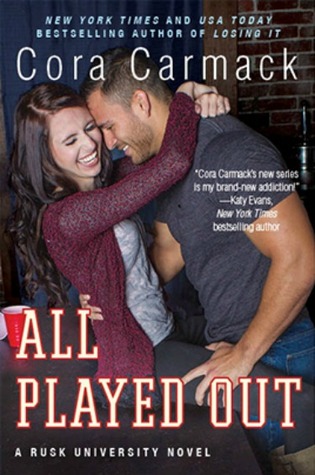 All Played Out (Rusk University #3)
by Cora Carmack
Published: May 12, 2015 by William Morrow & Company
Source: Purchased ebook
First person in her family to go to college? CHECK.
Straight A's? CHECK.
On track to graduate early? CHECK.
Social life? …..yeah, about that….

With just a few weeks until she graduates, Antonella DeLuca's beginning to worry that maybe she hasn't had the full college experience. (Okay... Scratch that. She knows she hasn't had the full college experience).

So Nell does what a smart, dedicated girl like herself does best. She makes a "to do" list of normal college activities.

Item #1? Hook up with a jock.

Rusk University wide receiver Mateo Torres practically wrote the playbook for normal college living. When he's not on the field, he excels at partying, girls, and more partying. As long as he keeps things light and easy, it's impossible to get hurt... again. But something about the quiet, shy, sexy-as-hell Nell gets under his skin, and when he learns about her list, he makes it his mission to help her complete it.

Torres is the definition of confident (And sexy. And wild), and he opens up a side of Nell that she's never known. But as they begin to check off each crazy, exciting, normal item, Nell finds that her frivolous list leads to something more serious than she bargained for. And while Torres is used to taking risks on the field, he has to decide if he's willing to take the chance when it's more than just a game.

Together they will have to decide if what they have is just part of the experiment or a chance at something real. [goodreads]
I am a total fangirl when it comes to this series. I read the first book earlier this year and couldn't wait to get my hands on the next. The third installment in the Rusk University series did not disappoint! These books have become my go-to when I am in need of something flirtatious and addicting. Each one has delivered in that regard and I can not recommend them enough.
Nell was first introduced as Dylan's roommate in the second novel. Though I didn't get a good feel for her then, I just saw her as the studious type who was more focused on studying than anything else. Mateo (or Torres, depending on who is referencing him) has been a side character in the previous novels as well. Always being portrayed as the life of the party, the jokester, the not so serious type. Or I should say, the exact opposite of everything Nell's character is. As Nell is finishing up her last semester of college (taking early graduation, I might add), she feels a bit of disconnect with the whole "college life" persona. Before she takes on the big world, she wants to experience a few things first. As she's attempting to mark her first item off the list, she's encountered by Mateo. He's immediately attracted to her and wants in on the fun that she's up to.
Though their characters are polar opposites, I really enjoyed how their attraction to each other stuck like magnets. While Mateo aided in supplying Nell with her own college experiences, she also opened up some old wounds that Mateo thought had been long healed. As I've come to expect in this series, there is always a heavy does of physical interaction between the two main characters, producing quite a bit of heat. But there's also an underlining story, one that takes time to surface, peeking at just the right moment. Cora Carmack delivers another un-put-downable performance with this one, securing her spot as one of my favorite New Adult romance authors.