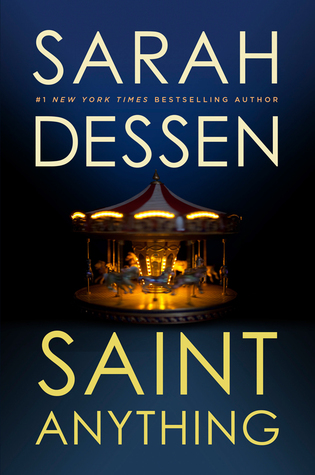 Saint Anything
by Sarah Dessen
Published: May 5, 2015 by Viking Juvenille
Source: ARC from publisher
Peyton, Sydney's charismatic older brother, has always been the star of the family, receiving the lion's share of their parents' attention and—lately—concern. When Peyton's increasingly reckless behavior culminates in an accident, a drunk driving conviction, and a jail sentence, Sydney is cast adrift, searching for her place in the family and the world. When everyone else is so worried about Peyton, is she the only one concerned about the victim of the accident?

Enter the Chathams, a warm, chaotic family who run a pizza parlor, play bluegrass on weekends, and pitch in to care for their mother, who has multiple sclerosis. Here Sydney experiences unquestioning acceptance. And here she meets Mac, gentle, watchful, and protective, who makes Sydney feel seen, really seen, for the first time.

The uber-popular Sarah Dessen explores her signature themes of family, self-discovery, and change in her twelfth novel, sure to delight her legions of fans. [goodreads]
Reading a Sarah Dessen book is the essence of YA contemporary. She manages to capture all of its glory in such a flawless, unforgiving manner. The characters are multi dimensional, coming alive from the pages with their unique voices. Dessen is known for her strong-willed character driven novels, and thats a familiarity that I have come to love within her story-telling.
Saint Anything
holds its own, yet still offers the comfort of a true Dessen novel.
Immediately I am drawn to Sydney and the shadows she lives in as always being second best to her spotlight brother Peyton. But when tragedy strikes, sending Peyton to jail, it forces Sydney to step up, creating her own platform to perch from. I was cautious of Sydney, wanting to see her step out on her own, but also wanting to create a safe harbor for her, too. She's always done the right thing her entire life, so when she decides to be bold and venture into new friendships that lead to new adventures, I found myself cheering her along.
I had difficulty reading some of the interactions between Sydney and her mother. Not because it was bad form on Dessen's part, but because it felt so authentic. As the adult reader, I knew Sydney's mom ultimately loved her and only wanted to protect her. But I could also see the damage it was doing to Sydney's reluctant courage. When I find myself shouting out at the pages while reading, I know I'm encountering some amazing writing.
Overall I was pleased with Dessen's latest. Her beautiful writing reminded me why I fell in love with her storytelling in the first place. She's an author I wish I would have had as a teenager. I know its directness, yet gentleness would have spoke volumes to my teenage heart. I can only imagine the positive impact this particular story will have on today's youth and the ones to come.