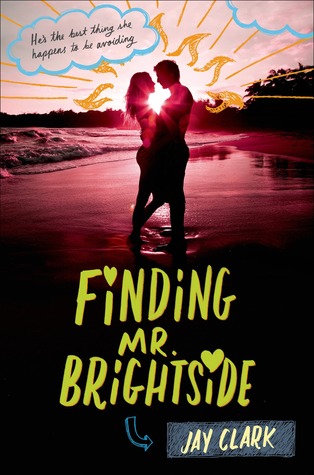 Finding Mr. Brightside
by Jay Clark
Published: March 24, 2015 by Henry Holt & Co. (BYR)
Source: From the publisher
Abram and Juliette know each other. They've lived down the street from each other their whole lives. But they don't really know each other—at least, not until Juliette's mom and Abram's dad have a torrid affair that culminates in a deadly car crash. Sharing the same subdivision is uncomfortable, to say the least. They don't speak.

Fast-forward to the neighborhood pharmacy, a few months later. Abram decides to say hello. Then he decides to invite her to Taco Bell. To her surprise as well as his, she agrees. And the real love story begins. [goodreads]
Finding Mr. Brightside doesn't waste any time at all on finding the plot to this story. The beginning takes off right from the start, introducing both Abram and Juliette to the reader, identifying their weaknesses that will ultimately bring them together. I appreciated the fact that the author didn't spend time telling the before story, instead dropping us in the after, that would ultimately help fill in the blanks as the story progressed.
The narrative is told in dual point of views, rotating back and forth between Abram and Juliette. This allowed the story to be more visceral, exploring both sides to what could have been told from a singular perspective. Each character possessed their own unique voice, that never left me guessing who was speaking when. While Abram washed ashore as a breath of fresh air, Juliette took up residence as the cynical, more complex character. I enjoyed the relationship that took root between these two, a relationship that should not have developed considering how they both knew one another. It developed at an easy, slow pace, that felt very authentic considering the circumstances.
This story packs a powerful punch at just a little over 200 pages. Though the author did a good job of keeping the story rooted at its core, I had hoped to see it branch out just a bit more. Overall this contemporary novel left me on a high note, delivering at all the right moments. I appreciated the uniqueness in its characters voices, building a solid story to keep me turning the pages.