In the coming days I will be participating in the blog tour for MOSQUITOLAND by David Arnold, a 2015 debut I have been anxiously anticipating! But today I wanted to give my readers a sneak peek at the book trailer. There is something so haunting, yet resinating with this music, that causes me to want to know more about this story. Watch below and let me know in the comments what you think. Has this 2015 debut been added to your to-be-read list?!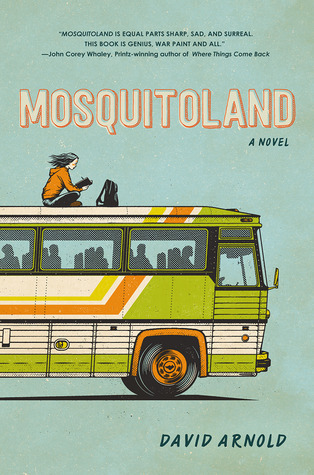 About the book: I am a collection of oddities, a circus of neurons and electrons: my heart is the ringmaster, my soul is the trapeze artist, and the world is my audience. It sounds strange because it is, and it is, because I am strange.

After the sudden collapse of her family, Mim Malone is dragged from her home in northern Ohio to the "wastelands" of Mississippi, where she lives in a medicated milieu with her dad and new stepmom. Before the dust has a chance to settle, she learns her mother is sick back in Cleveland.

So she ditches her new life and hops aboard a northbound Greyhound bus to her real home and her real mother, meeting a quirky cast of fellow travelers along the way. But when her thousand-mile journey takes a few turns she could never see coming, Mim must confront her own demons, redefining her notions of love, loyalty, and what it means to be sane.

Told in an unforgettable, kaleidoscopic voice, Mosquitoland is a modern American odyssey, as hilarious as it is heartbreaking. [goodreads]

To be published: March 3, 2015 by Viking Books (Penguin)
Add to goodreads | preorder the book from Amazon or B&N
Author David Arnold is also the music genius behind Cinema Cycle, that delightful ear goodness heard in the book trailer. To listen to more of his music, visit his website here:
http://cinemacycle.bandcamp.com/
& feel free to support this talented artist by purchasing his music, too.