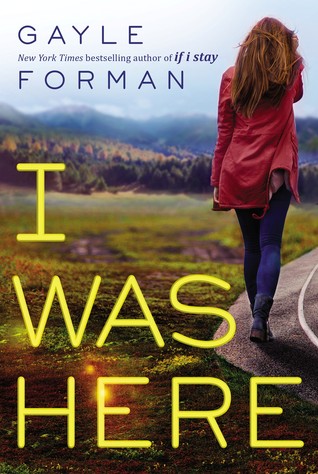 I Was Here
by Gayle Forman
Published: January 27, 2015 by Viking Juvenile
Source: Borrowed ARC
Cody and Meg were inseparable.
Two peas in a pod.
Until . . . they weren't anymore.

When her best friend Meg drinks a bottle of industrial-strength cleaner alone in a motel room, Cody is understandably shocked and devastated. She and Meg shared everything—so how was there no warning? But when Cody travels to Meg's college town to pack up the belongings left behind, she discovers that there's a lot that Meg never told her. About her old roommates, the sort of people Cody never would have met in her dead-end small town in Washington. About Ben McAllister, the boy with a guitar and a sneer, who broke Meg's heart. And about an encrypted computer file that Cody can't open—until she does, and suddenly everything Cody thought she knew about her best friend's death gets thrown into question.

I Was Here is Gayle Forman at her finest, a taut, emotional, and ultimately redemptive story about redefining the meaning of family and finding a way to move forward even in the face of unspeakable loss. [goodreads]
Gayle Forman is an author with a distinct voice in YA contemporary. She knows how to tackle tough issues, delivering the story in a flawless, un-put-downable way. Suicide is not an easy plot to follow. There were moments while reading this particular story that left me uneasy, not wanting to know the gory details about how one can take their own life, yet leaving me to ponder how one can get to that state in their mind. I Was Here takes a deeper look at grief and how a best friend manages to put the pieces back together after her other half takes her own life.
Cody has lived in this small Pacific northwest town her whole life, along side her best friend Meg, who's family has become her second home. As the two girls face young adulthood after high school, Cody must stay behind due to financial strains, while Meg ventures off to something bigger and brighter a few hours drive away. What Cody doesn't realize is that Meg has been spiraling down a dark hole of depression for quite some time, so when the news that Meg has taken her own life reaches Cody, it causes a shock to her core.
Little by little Cody unearths clues leading to Meg's suicide. She refuses to accept her death until some answers are resolved. But how does one go about seeking answers from the dead? Cody finds herself digging up Meg's last few months before she took her last breath. The idea that her best friend had been planning her own death without Cody ever knowing almost becomes too unbearable. In the process Cody forms new relationships with people Meg once knew, and little by little the pieces begin to form a picture that no one wants to truly see.
I found myself flipping the pages, constantly on the edge of my seat, wanting to know what led Meg to take her own life -- yet frightened and anxious for Cody to unveil the truth. Gayle Forman's effortless writing shines through in this unforgettable story. It's hard to swallow in parts, yet so demanding in others. I literally could not break my eyes from the page until I reached that final conclusion. Grief is expressed in many different ways, and this story gives an honest portrayal of those various shades.