Since I began this book blog I've always enjoyed participating in Waiting on Wednesday, hosted by Jill at
Breaking the Spine
. It's something I'll continue to do, but I wanted a separate place to feature the Adult books I am anxious to read in the coming months as well. I will be featuring this post in a format of threes, mixing it up each time. I look forward to sharing some Adult books I am eager to read and hope to put them on your radar as well.
Even though the temps are reaching 100 degrees here, I still wanted to feature some upcoming Holiday books. Now, I realize two of these books mention nothing about Christmas in their summary, but the covers give off a look that says: Read me by the fire with a hot cup of cocoa! Do they not?!
3 "Holiday" Adult Books to Add to Your Goodreads List
: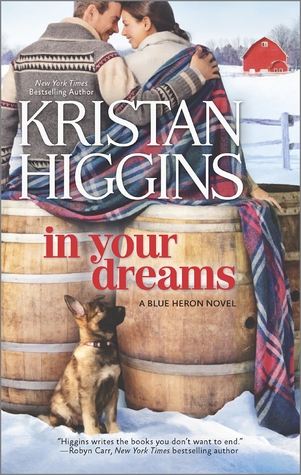 In Your Dreams

by Kristan Higgins
To be published: September 30, 2014 by Harlequin
add to goodreads | Amazon | B&N

Emmaline Neal needs a date. Just a date—someone to help her get through her ex-fiancé's wedding without losing her mind. But pickings are slim in Manningsport, New York, population 715. In fact, there's really only one option: local heartthrob Jack Holland. Everyone loves Jack, and he won't get the wrong idea…. After all, Jack Holland would never actually be interested in a woman like Em. Especially not with his beautiful ex-wife creeping around, angling to reunite ever since he rescued a group of teens and became a local hero.

But when the wedding festivities take an unexpectedly passionate turn, Em figures it was just one crazy night. Jack is too gorgeous, too popular, to ever end up with her. So why is she the one he can talk to about his deep, dark feelings? If Em is going to get her dream man, she'll have to start by believing in him… [goodreads]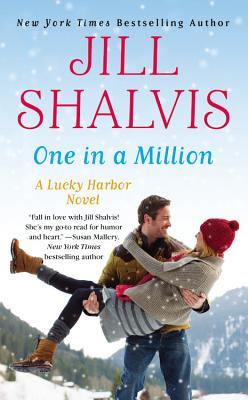 One in a Million

by Jill Shalvis
To be published: October 14, 2014 by Grand Central Publishing
add to goodreads | Books-A-Million | B&N

As the brains behind wedding site TyingTheKnot.com, Callie sees it all: from the ring to the dress, the smiles . . . to the tears. It's that last part that keeps her single and not looking. Getting left at the altar will do that to a girl. But when Callie returns to her old hometown, she finds that her sweet high school crush is sexier than ever. And he makes it hard to remember why she's sworn off love . . .

Tanner is a deep-sea diver with a wild, adrenaline-junkie past—and now his teenage son is back in his life. How can Tanner be a role model when he's still paying for his own mistakes? It's hard enough that gorgeous Callie has appeared in town like a beautiful dream, challenging his best-laid plans to keep his heart on lockdown. Though there's something about being around her again that makes him feel like he can be the man she—and his son—deserve. Little Lucky Harbor holds their past; can it hold a beautiful new future? [goodreads]
Baby, It's Cold Outside

by Jennifer Probst + more
To be published: October 28, 2014 by Pocket Books
add to goodreads | Amazon | B&N

New York Times and USA TODAY bestselling indie authors Jennifer Probst, Emma Chase, Kristen Proby, Melody Anne, and debut author Kate Meader come together to write a sizzling romance anthology.

Outside it may be frosty, so turn the heat way up with these stories of desire!

Can a determined woman executive and a playboy billionaire survive being stranded together in a snowstorm? Jennifer Probst depicts an encounter almost too hot to handle...

Drew and Kate play an encore to Tangled in this sexy take on a "Christmas Carol" by Emma Chase. When a Christmas Eve argument condemns Drew to a troubled night, three dream women teach him that no gift could be more tantalizing than Kate...

With Kristen Proby, ski slopes are quite delightful. Grace Douglas is sure she'll never learn to ski, but instructor Jacob Baxter could teach her lessons of a different kind...

Can a southern California transplant survive Montana's deep snows? Melody Anne, author of the bestselling Andersons series, melts the icy drifts completely away with the heat between sexy Hawk Winchester and brand-new teacher Natalie Duncan...

What could be hotter than a firefighter? Kate Meader shows how, as Brett Farraday and heiress-turned-tattoo-artist Lucy Cochrane discover, nothing ignites holiday flames like rekindling a lost love... [goodreads]
As always, let me know if any of these books have been added to your TBR list! I'm constantly building mine, so feel free to share more upcoming "Holiday" Adult books in the comments below.