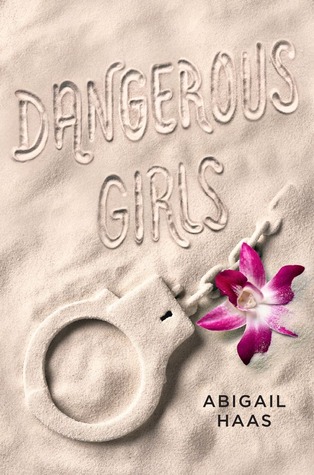 Dangerous Girls
by Abigail Haas
Published: July 16, 2013 by Simon Pulse
Source: From the library
It's Spring Break of senior year. Anna, her boyfriend Tate, her best friend Elise, and a few other close friends are off to a debaucherous trip to Aruba that promises to be the time of their lives. But when Elise is found brutally murdered, Anna finds herself trapped in a country not her own, fighting against vile and contemptuous accusations.

As Anna sets out to find her friend's killer; she discovers hard truths about her friendships, the slippery nature of truth, and the ache of young love.

As she awaits the judge's decree, it becomes clear that everyone around her thinks she is not just guilty, but dangerous. When the truth comes out, it is more shocking than one could ever imagine... [goodreads]
This is definitely not my typical read. I tend to shy away from books/movies that possess realistic nightmares. I'm not a fan of scary stuff in general, but the types of stories that could actually be real (and in this case, mirroring actual real life situations), I tend to stay away from them. I don't like to be freaked out. But there was something about this particular book that kept pulling me toward it. Just about everyone I talked to who had read it, raved about it. It's hard to pass up a story with that high praise, even if the subject matter creeps you out.
What's so scary about this story? Well, for one thing a girl is brutally murdered. We see this story through the eyes of Anna, who has traveled to Aruba for spring break with her best friends. They all come from upper class, wealthy families, except for Anna. I always find these types of characters to be fascinating because when you're that high up, the potential to fall is always inevitable.
Their vacation begins as one big week long party, soaking up the sun by day, and guzzling the alcohol by night. But underneath all that good time fun we start to see more depth to Anna, her friendship with Elise (the one who is murdered), the all consuming relationship Anna shares with her boyfriend Tate, and the mixture of other friends that play a part in this vivid scenario.
The story is told in flashbacks of how Anna and Elise became friends, when Anna and Tate first started dating, and how their spring break played out with everyone else on the island. Then it jumps ahead to present day, where Anna is sitting in prison, awaiting trial for the murder of her best friend. We see glimpses of how this all began, and how it lead up to Anna pleading for her innocence.
I was constantly second guessing every character in this book, trying to figure out who the guilty party was. Anna's struggle to be heard, while facing such a life-ending sentence, was difficult to read in parts. The book shed light on how a picture can be portrayed one way, depicting only what you want to see. While the truth can just as easily be masked and buried for no one to find at all. I found myself flipping the pages, anxiously waiting for the verdict.
If you're a fan of mysteries and thrillers, I highly recommend this novel. It's the type of story that keeps you on the edge of your seat. The ending definitely produced something I was not expecting. DANGEROUS GIRLS is every bit dangerous and addicting, a story that sent a chill through me, yet kept me coming back for more.