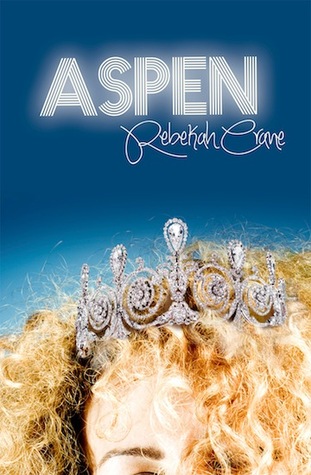 Aspen
by Rebekah Crane
Published: June 5, 2014 by In This Together Media
Source: From the publicist, Jennifer Halligan
One quiet night in Boulder, Colorado, Aspen Yellow-Sunrise Taylor made a mistake.

In the next instant, her life changed forever.

Aspen doesn't want to remember the car accident that killed Katelyn Ryan, a sleek-haired popular soccer player. But forgetting is hard-- because Katelyn may have died -- but she didn't leave. Her ghost is following Aspen around, and heading into senior year, it's kind of a problem. Especially when Katelyn's former boyfriend Ben appears to be the only person at school with a clue as to how Aspen feels.

Popularity, Homecoming Court, hot guys - none of these things ever mattered to Aspen. She's been busy trying to keep her stoner mother Ninny in line and out of unemployment. But with Ben sitting next to her in Physics and her therapist begging her to remember all the things she wants to forget, Aspen is thrust into a vivid, challenging world she can't control ... and doesn't want to.

A darkly funny, emotionally gripping story of opening up, letting go, and moving on, Aspen is about the best-worst accident of your life ... and what comes next. [goodreads]
Life can be challenging for a teenage girl; especially for Aspen, when one small mistake changes the course of her life forever. Aspen hasn't had it easy. She's grown up in a single mother household, basically raising herself since Mom chooses to check out and get stoned, rather than step up and be the parent. Thankfully Aspen has the support of her two best friends, Kim and Cass, to help guide her through life's messes. But when Aspen finds herself in a car accident, that may or may not be her fault, resulting in a head on collision killing the other driver; she retreats inside her head, where the guilt prays on her every day life.
There is a refreshing tone set through out this novel, one that kept me coming back to it, wanting to know where this story would lead. I felt connected to Aspen's character, through her set backs and her growth as well. Though I did not agree with her mother's lifestyle, the love she felt for Aspen was still genuine, and one that set their relationship apart from other mother/daughter relationships in the YA contemporaries that I've read. The cast of secondary characters held their own as well, and were not just props in the background of Aspen's story. Their interactions felt authentic and engaging; especially the relationship between Aspen and Ben.
ASPEN is a story that presents challenges and how to live through those obstacles, the best way you know how. There are darker elements in this story as Aspen deals with PTSD due to the repercussions of her car accident, but it's also littered with an authentic sense of humor, one that kept the story floating along at just the right moments. If you're a fan of realistic YA contemporary, dealing with emotional, yet rewarding relationships, then I definitely recommend this novel.
TOUR SCHEDULE
GIVEAWAY
One winner will receive a signed copy of ASPEN, an ebook of PLAYING NICE, and $10 Amazon gift card (US only). Five winners will receive an ebook copy of ASPEN (international).
a Rafflecopter giveaway
About Rebekah Crane

Rebekah Crane fell in love with YA literature while studying Secondary English Education at Ohio University. After having two kids, living in six different cities, and finally settling down in the foothills of her beloved Rocky Mountains, her first novel, PLAYING NICE, was published. ASPEN, her second YA novel, set in Boulder, CO, is due to release in summer 2014 from In This Together Media. She now spends her day carpooling kids or tucked behind a laptop at 7,500 ft high in the Rockies, where the altitude only enhances the experience.