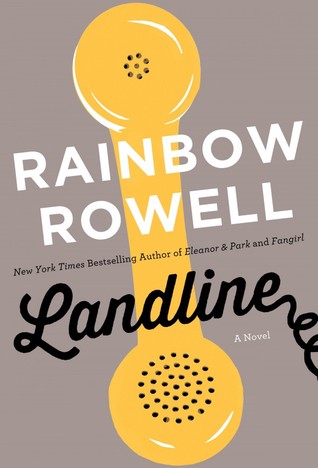 Landline
by Rainbow Rowell
Published: July 8, 2014 by St. Martin's Press
Source: Borrowed ARC from a friend
Georgie McCool knows her marriage is in trouble. That it's been in trouble for a long time. She still loves her husband, Neal, and Neal still loves her, deeply — but that almost seems besides the point now.

Maybe that was always besides the point.

Two days before they're supposed to visit Neal's family in Omaha for Christmas, Georgie tells Neal that she can't go. She's a TV writer, and something's come up on her show; she has to stay in Los Angeles. She knows that Neal will be upset with her — Neal is always a little upset with Georgie — but she doesn't expect to him to pack up the kids and go home without her.

When her husband and the kids leave for the airport, Georgie wonders if she's finally done it. If she's ruined everything.

That night, Georgie discovers a way to communicate with Neal in the past. It's not time travel, not exactly, but she feels like she's been given an opportunity to fix her marriage before it starts . . .

Is that what she's supposed to do?

Or would Georgie and Neal be better off if their marriage never happened? [goodreads]
As a fan of Rainbow Rowell's previous books, I was anxious to get my hands on her next novel. I like that this author has created a crossover appeal in both Young Adult literature and Adult literature. It's refreshing to know that I can rely on Rainbow Rowell to produce stories that speak to many different audiences, yet still reach far beyond what any label may place on her books.
LANDLINE will resonate with readers who know the struggles, and the joys, of falling in love and how to hold on to that love when life happens and carries you forward. Though I could not personally relate to Georgie's character, I could definitely identify with her struggles as the woman she evolved into, not even realizing how far she'd strayed from her original path. The novel begins with present day Georgie and her husband Neal, about to visit Omaha for Christmas with the family. Within the first few pages there was an obvious disconnect between Georgie and her husband. It was as if they were two people living inside the shell of what used to be a blossoming relationship. They were going through the motions, avoiding the obvious, and tip toeing around the real issues that kept threatening to bubble at the surface.
When Georgie chooses her work over her family for Christmas, Neal takes their two daughters to Omaha and basically disconnects. It causes Georgie to reflect a lot on what their relationship used to be like, and how much they've stumbled off their path. In what some may call a time machine, Georgie discovers a rotary phone in the bedroom of her childhood home, that allows her to connect with the past. In her endless attempt to contact Neal in Omaha, she decides to use the landline. But the Neal she connects with at the other end of the line is not what she was expecting. This magical phone has given her access to a piece of their history. She's able to go back and communicate with Neal, saying all the things and none of the things that have been trapped inside her head.
The question, is love enough? Is often echoed throughout this novel. Georgie knows she loves Neal, she always has, but at the end of the day is that enough to survive each other? Through a series of late night phone calls into the past, Georgie rediscovers her path and where it must lead. This story produces the authentic voice that Rainbow Rowell has crafted throughout her novels, bringing with it a sense of delicious humor and heart aching moments. LANDLINE proposes a lot of questions that so many adults ponder as two people build a life together in their marriage. This novel may come across a bit quiet, but I promise patience is definitely rewarded in the end.