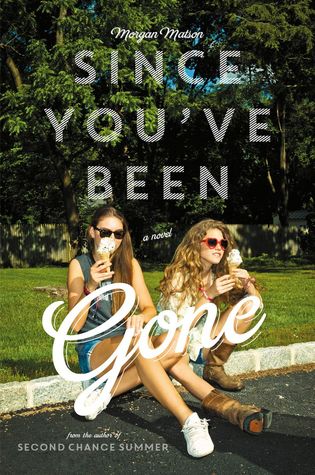 Since You've Been Gone
by Morgan Matson
Published: May 6, 2014 by Simon & Schuster
Source: Gifted by the author
The Pre-Sloane Emily didn't go to parties, she barely talked to guys, she didn't do anything crazy. Enter Sloane, social tornado and the best kind of best friend—the one who yanks you out of your shell.But right before what should have been an epic summer, Sloane just... disappears. No note. No calls. No texts. No Sloane. There's just a random to-do list. On it, thirteen Sloane-selected-definitely-bizarre-tasks that Emily would never try... unless they could lead back to her best friend. Apple Picking at Night? Ok, easy enough.Dance until Dawn? Sure. Why not? Kiss a Stranger? Wait... what?

Getting through Sloane's list would mean a lot of firsts. But Emily has this whole unexpected summer ahead of her, and the help of Frank Porter (totally unexpected) to check things off. Who knows what she'll find?

Go Skinny Dipping? Um... [goodreads]
It says a lot about an author when they have the ability to produce not one, not two, but three individually captivating stories. Matson's debut novel, Amy and Roger's Epic Detour was one of the first books I reviewed here on my blog back in 2010. When I encountered Second Chance Summer in 2012, it broke my heart into a million pieces, only to put it back together fuller than it was before. I had very high expectations going into Since You've Been Gone, and it seems to be a rarity in a sea of young adult contemporaries to say that Matson's third novel has far surpassed anything I expected, taking my literary heart to new heights.
On the surface this book seems to be about friendship, and how those we cling to in our youth can shape who we become later in life. Yes, this is true. But the story digs much deeper than just a friendship between two teen girls. It highlights the relationship at its worst and best of times, focusing on the details that twine these two together. Emily has always been the girl in the shadows of her best friend, Sloane. She was okay walking in second to a party and not being noticed by anyone. She felt safe under Sloane's wing, because she knew she had her best friend and that's all that mattered. But what happens when your best friend up and leaves one day without any forewarning? This is the story about Emily and how she manages to break free from those shadows and become her own shining new star.
In the beginning, Emily's character was hard for me to get a handle on. I found myself getting frustrated with how uncertain and passive she was. But once I reminded myself to read this story through teenage eyes, instead of my own adult eyes, it made more sense to me. Emily's character is true to what a lot of young girls encounter during their youth. Their shyness holds them back from taking risks, expecting the predictable path to always keep them safe. But sometimes it's more important to veer from that path and take a chance on life. As Emily slowly evolved down this route, it was a beautiful thing to witness her transformations.
These transformations came about from a list that Sloane left for Emily. It becomes Emily's lifeline to Sloane, and she quickly believes that if she accomplishes each outlandish thing on this list, it will bring her back to Sloane. In true best friend form, Sloane has left Emily a list of fears to tackle, obstacles to overcome, and hopefully she'll seek some fun in them along the way, too. Just as Emily is feeling though her summer will be completely lonesome now that Sloane is MIA, the list introduces her to new friends: Frank, Dawn, and Collins.
The steady growth of Emily's character and the relationships she builds, especially with Frank, kept the story moving at a steady, even pace. In true Matson form, the pages are littered with beautiful quotes. The kind that cause you to stop, pause, let the words soak in, take a deep breath, and then continue reading. This author has such a definite voice in her prose that it causes this adult reader to reminisce about my own teen years, and reflect back on the friendships that built me into the woman I am today.
This is a young adult novel not to be missed. I am so thankful for having read it because I know it will become a powerful tool in my future classroom. The messages it sends to young girls is one that can not be measured on a page, but I have hopes that my own students will identify with these characters and take something away from it.