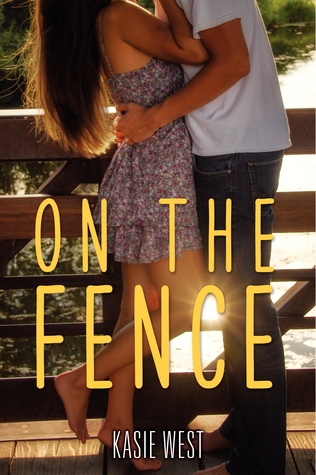 On the Fence
by Kasie West
Published: July 1, 2014 by HarperTeen
Source: From the publisher via Edelweiss - thank you!
She's a tomboy. He's the boy next door…

Charlie Reynolds can outrun, outscore, and outwit every boy she knows. But when it comes to being a girl, Charlie doesn't know the first thing about anything. So when she starts working at a chichi boutique to pay off a speeding ticket, she finds herself in a strange new world. To cope with the stress of her new reality, Charlie takes to spending nights chatting with her neighbor Braden through the fence between their yards. As she grows to depend on their nightly Fence Chats, she realizes she's got a bigger problem than speeding tickets-she's falling for Braden. She knows what it means to go for the win, but if spilling her secret means losing him for good, the stakes just got too high.

Fun, original, and endearing, On the Fence is a romantic comedy about finding yourself and finding love where you least expect. [goodreads]
I really enjoyed Kasie West's previous YA contemporary, The Distance Between Us, so I was anticipating her next release for quite some time. When I got my hands on an early copy to read, I moved it up my to-be-read pile. However, as I began to read On the Fence, I found myself a bit "on the fence". Sometimes I think I put a bit too much pressure and expectations on a book, and if something feels the slightest bit off, I'm quick to have second thoughts about it. This book in particular started out that way, but as the story progressed something shifted, as if a switch had just been flipped, and my interests were completely sucked in. I am so glad I stuck with this novel because as it turns out, it definitely met my expectations!
Charlie has grown up in a house full of testosterone; including her three brothers, single dad, and the boy from next door. Her memories of her mother are a bit fuzzy since she died in a car accident when Charlie was just six years old. She hasn't had a female figure in her life, so naturally she's succumbed to a more tom-boyish lifestyle. But as Charlie emerges into becoming a young woman, she begins to realize the opposite sex beyond just football and soccer games. These funny feelings keep creeping in when ever she's around Braden, her neighbor who should be almost like a brother, except these feelings have kept it far from that.
At first the dynamic between Charlie, Braden, and her brothers felt a bit juvenile to me. Even though the author had described them as being upperclassmen in high school (and one brother in college), their actions felt a bit too immature. I struggled with that aspect of the story in the beginning, but it didn't last much longer. Once Charlie took on a job at shopping boutique to pay off some speeding tickets, her interactions with her brothers began to make more sense. They always saw her as "one of the guys", yet secretly they were protective of her, too. As Charlie learned about fashion and makeup, something she was never exposed to before, she begins to see outside her spectrum.
The inner conflict Charlie has with herself became a focal point in the story for which pivoted the rest of the story around it. My heart went out to this girl as she tried to fit in with other girls, yet still felt foreign to their interests. This story represents the struggles a teen girl faces when trying to find her own identity. In Charlie's case she was always cast as the wide receiver for a pick-up game at the park, but somewhere inside she had the urge to go outside her comfort zone and test new waters.
The relationship between Charlie and Braden blossomed this story into a very well-rounded YA contemporary. These two characters begin as friends, confiding in one another during late night "fence chats". In these moments, during the still of the night, they became vulnerable and allowed their true emotions to seep through the fence's wooden planks. It was interesting to witness Charlie's transformation as she became more aware of her feelings for Braden and trying to decide what to do with them.
Even though On the Fence had me a bit "on the fence" in the beginning, my hesitant thoughts quickly diminished and I found myself immersed inside this story. For fans of contemporary YA that enjoy a quick-paced read, I definitely recommend this novel. It proposes the prospect of being a cute read, but delivers something much deeper, producing a very pleasant and richer reading experience.