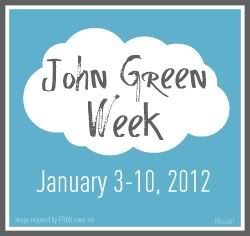 John Green is a very common name in the young adult fiction world. I felt a bit left behind because I had not read anything by him, yet. So when I picked up Looking for Alaska to read recently, I thought to myself.. I get it now. THIS is why his name is thrown around so much because he really IS that sensational of a writer. Though John Green is popular for not just his books, but his videos as well, it's his honesty and humor that really grabs you as a participant in his creative outlets.
I felt all kinds of emotions after I finished reading
Looking for Alaska
. It's a story that goes beyond just words on a page, tugging at your inner soul. I laughed, I cried; I now look at toothpaste in a completely different way. It's the kind of story that sticks with you, urging you to come back to it time and time again. I know for me, personally,
Looking for Alaska
has left a strong impression on my love for young adult literature.
The story is told through the eyes of Miles, or known as "Pudge", alongside the Colonel, & the beautiful Alaska Young. It's the cast of characters that made this story for me. The witty banter, and the need to not be conformed, sucked me in. John Green's ability to identify each character in their own unique way really shined in this novel. I felt connected to each one, for several different reasons. I appreciated this book because John Green handed some pretty heavy topics to us, but he did not execute them in a preachy way. The flow felt natural, yet packed a powerful punch exactly when it needed to.
If you were like me and had not experienced John Green, I suggest starting with this book. It's an awesome way to introduce you to the literary world of this genius. Please keep your eyes peeled through out the blogosphere as 50+ blogs will be participating in John Green Week. If you're a fan of his work & want to jump in on the action, please feel free to on your blog. There is never enough John Green love!